Basket weaving 101. That's what's going down here at The House of Wood today. We're going to take veneer edge banding and make wooden wall art out of it! Yerp. Are you stoked? I'm totally stoked.
Oh, dream weaver, I believe you can get me through the night.
Oh, dream weaver, I believe we can reach the morning light.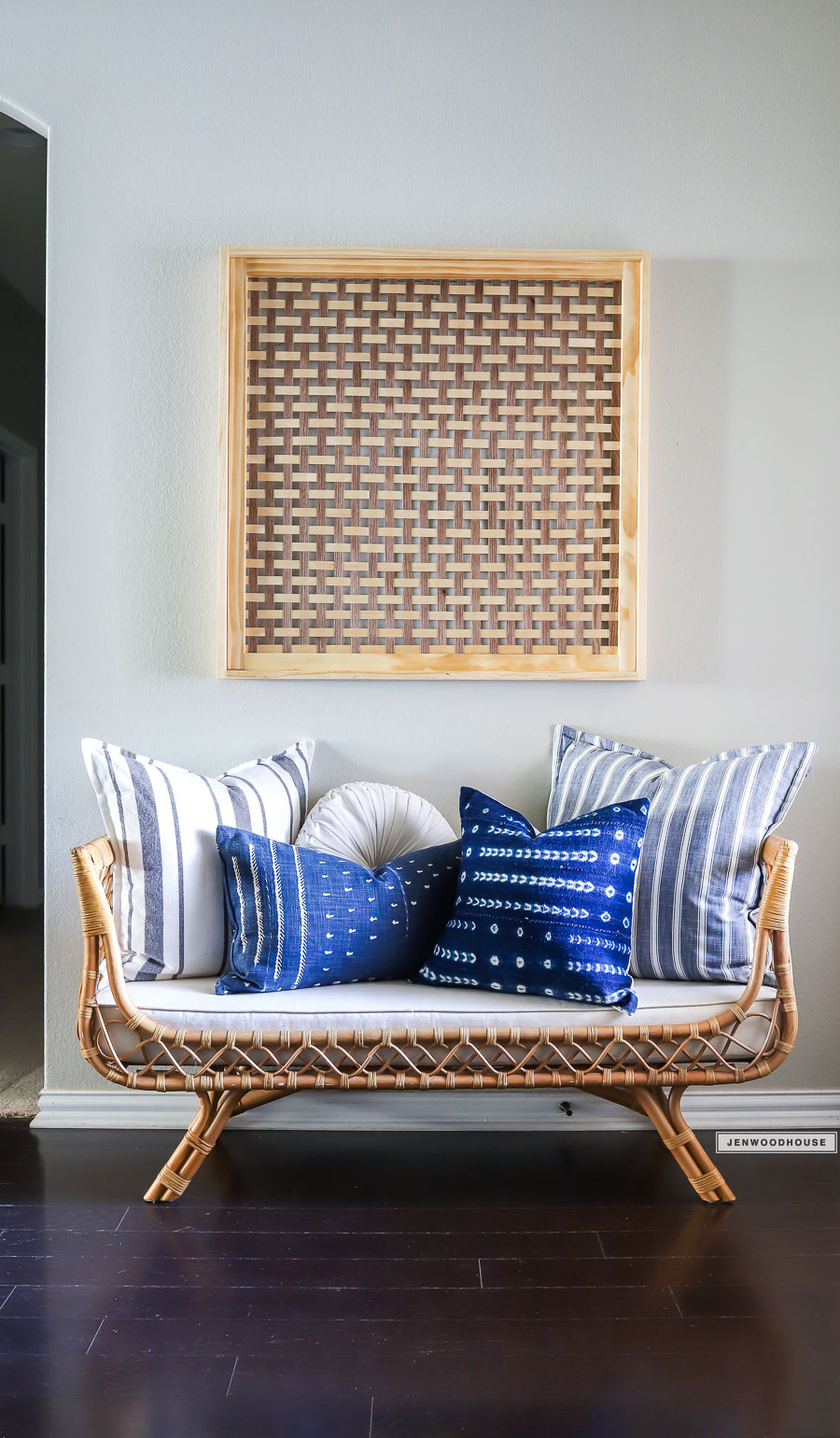 Oh, and as if today's DIY project isn't exciting enough for you…
STOP.
(Hammer Time.)
I'm joining a handful of my blogging buddies and we're throwing down a Wood Art Challenge!
SHUT UP.
I knowwww, we're gonna Party Like It's 1999.
Side note: how many hit pop songs can Jen fit into one blog post?
Challenge accepted.
#WoodArtChallenge
Check out these Beautiful People – we've Come Together to bring you all kinds of amazing wooden wall art: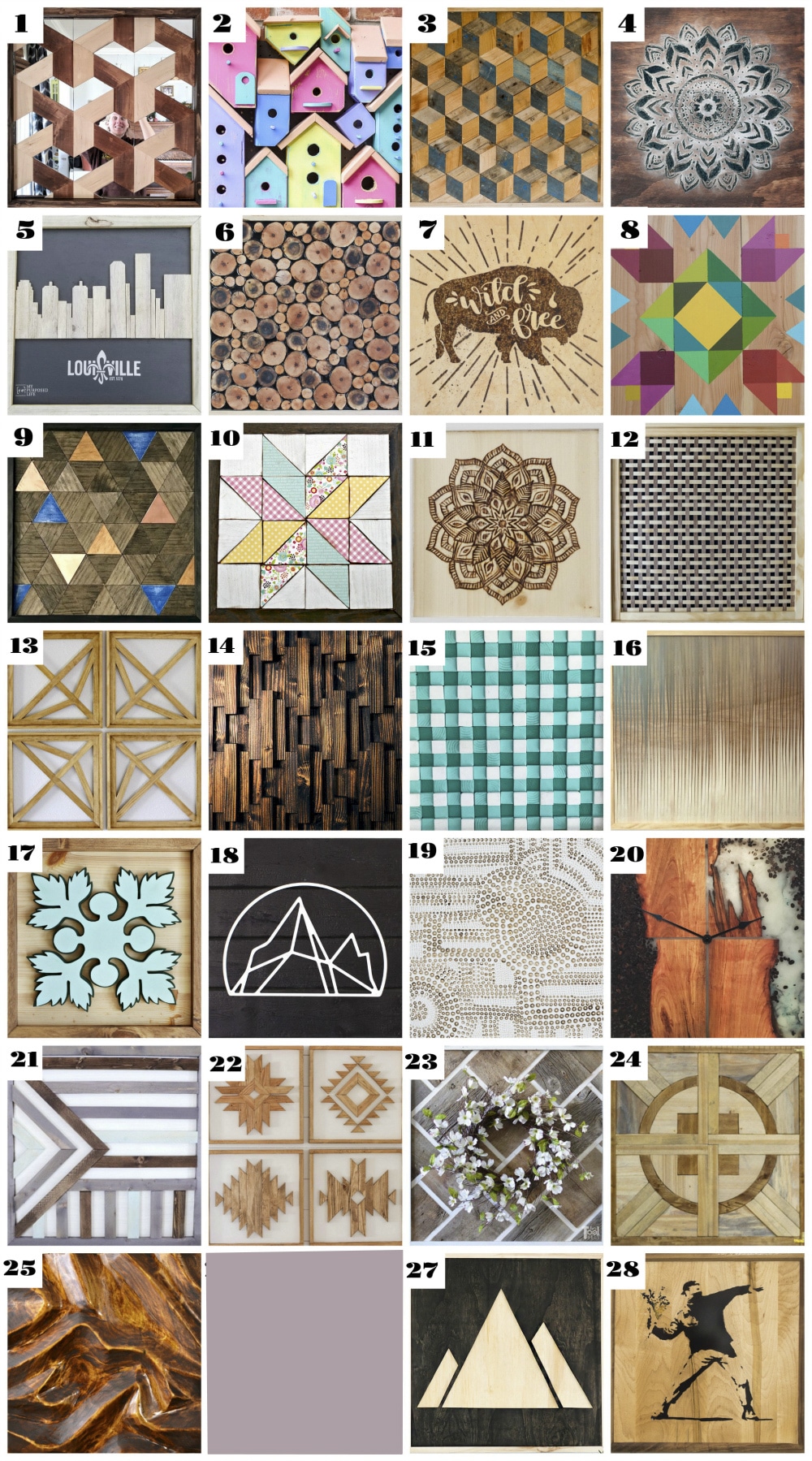 1) Reality Daydream 2) 100 Things 2 Do 3) House Becoming Home 4) Anika's DIY Life
5) My Repurposed Life 6) 3×3 Custom 7) One Project Closer 8) Merrypad
9) Chatfield Court 10) Create & Babble 11) Hazel & Gold Designs 12) Jen Woodhouse
13) Sawdust 2 Stitches 14) Wood Work Life 15) Remodelaholic 16) Evan and Katelyn
17) Jaime Costiglio 18) Pneumatic Addict 19) Bower Power 20) Lazy Guy DIY
21) My Love 2 Create 22) Addicted 2 DIY 23) Her Toolbelt 24) Shades of Blue Interiors
25) Ugly Duckling House 27) DIY Huntress 28) Mr. Fix It DIY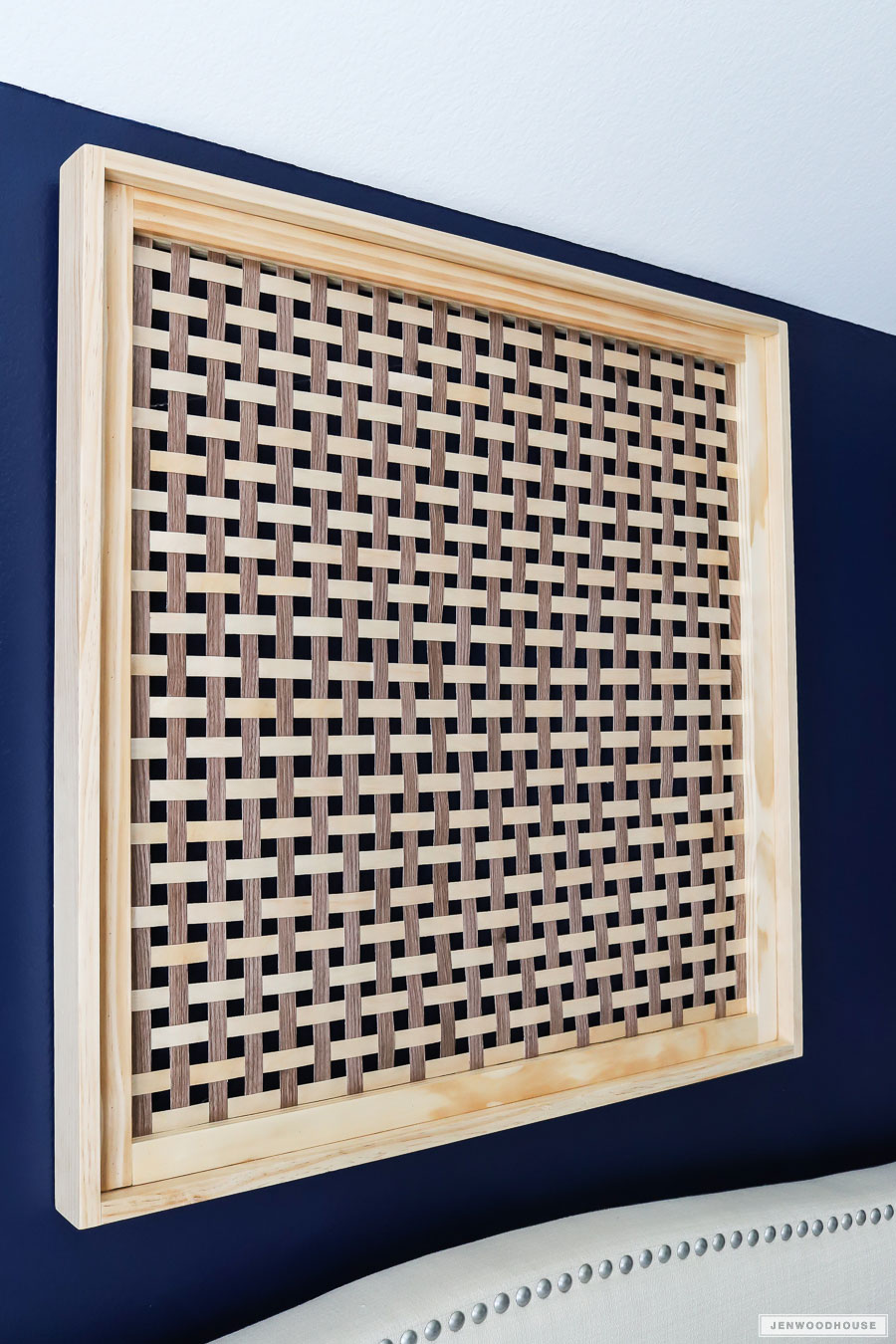 Wanna join in on the Good Clean Fun? You know you do. Make your own wooden wall art, post it on social media and hashtag it #WoodArtChallenge so we can see your beautiful creations. It's gonna be Fun, Fun, Fun under the Black Hole Sun.
Okay. Are you ready for this? Let's Get It On.
Boom.
Girl Is On Fire!

Wooden Wall Art Supplies
This is a super easy beginner-level project that can be done in one Afternoon Delight. Materials will run about $60, more or less, depending on how large you make your wooden wall art. Mine is 36 inches square, so I used about 140 feet of edge banding total (70 feet of walnut and 70 feet of birch).

Step 1
Construct the frame out of 1x2s. You can use any kind of joinery here: pocket hole, biscuit, mortise and tenon, dowels, staples… you do Whatever Your Heart Desires. I decided to get fancy in the shop and use my Festool Domino. I've had this tool for about a year and a half now and I rarely use it. I know, it's Criminal! I forget what an awesome tool it is! I've only used the Domino when making floating tenons for attaching breadboard ends to tabletops, but it's capable of so much more – I really should use it More Often Than Not.
Build the frame, check for square, and adjust as necessary. Glue, clamp, and let the glue dry for at least a Midnight Hour.
BTW. These are my favorite clamps.

Step 2
Now that the frame is built, Let's Get This Party Started. It's time to start Weaving On A Jet Plane (Okay, that one was a stretch). Cut the birch edge banding a little longer than the width of the frame (you'll be able to trim it later) and staple one side down. Don't staple the other side yet. Once one side is stapled down, start weaving the walnut edge banding.
Because the edge banding is a little stiff, don't staple the walnut strips down at all, until you weave it completely through the birch. You'll see in the photo below, that I did staple the walnut, but the strips kept coming loose as I was weaving them in and out of the birch veneer.
Don't Cry.
Do as I say, not what I do.
It's Tricky.
But you know, You Can Go Your Own Way, if you want.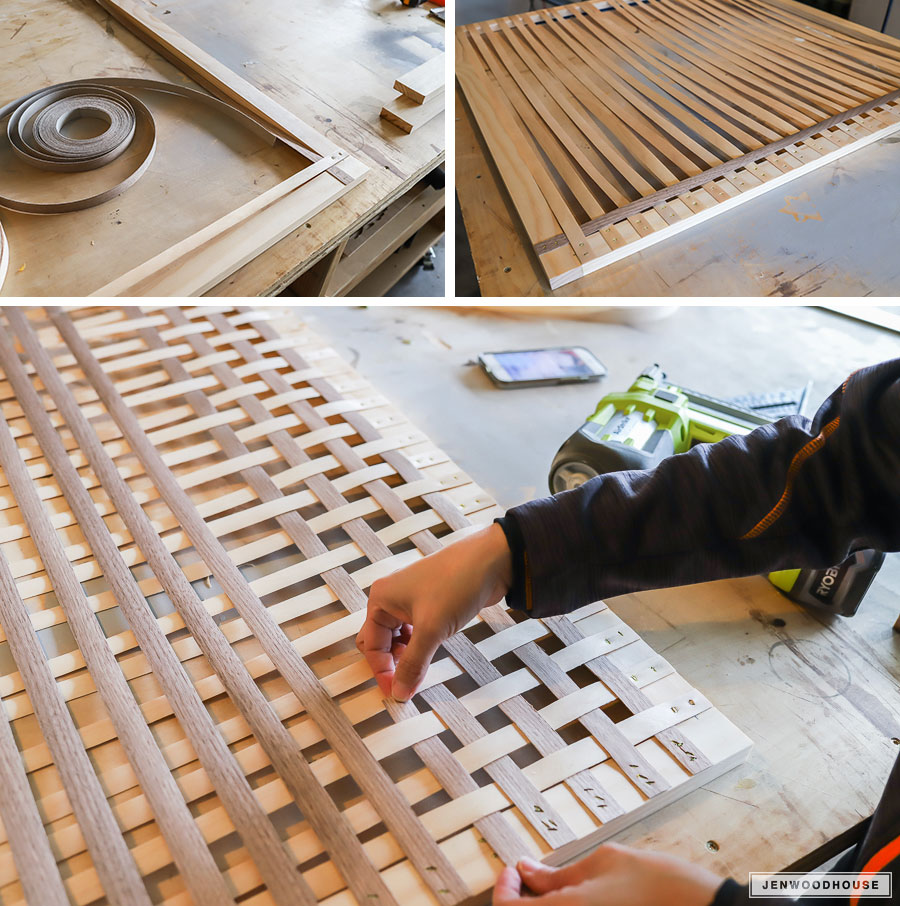 Once the walnut is completely woven through the birch from end to end, staple it in place. Trim off the excess with a pair of scissors.
Lather, rinse, repeat eleventy million times.
Congratulations.
I'm a hundred years old now.
All you need is a little Patience.
If only I could Turn Back Time After Time.
(Oh snap, that was a two-fer!)
Step 3
Once both the birch and walnut edgebanding is completely woven, Hallelujah! It's Smooth Sailin' from here on out. Go back and staple the other side of the birch. Then, run a hot iron along the perimeter. The edge banding has a heat-activated adhesive on the back, so it'll further secure the veneer to the frame. Is it getting Hot In Herre?

Step 4
Attach an identical frame made out of 1x2s to the front of the piece to hide the staples. The weaving should now be 'sandwiched' in between the two frames. Finally, Turn! Turn! Turn! the 1×3 boards on edge and attach them to the frame with glue and nails.
Fill all nail holes with putty, sand, and stain and/or paint, and finish as desired. I didn't bother painting or staining – I liked the natural wood tone of the edge banding so I just sprayed a couple of coats of clear glossy polyurethane, attached hanging hardware to the back, and hung up my wooden wall art.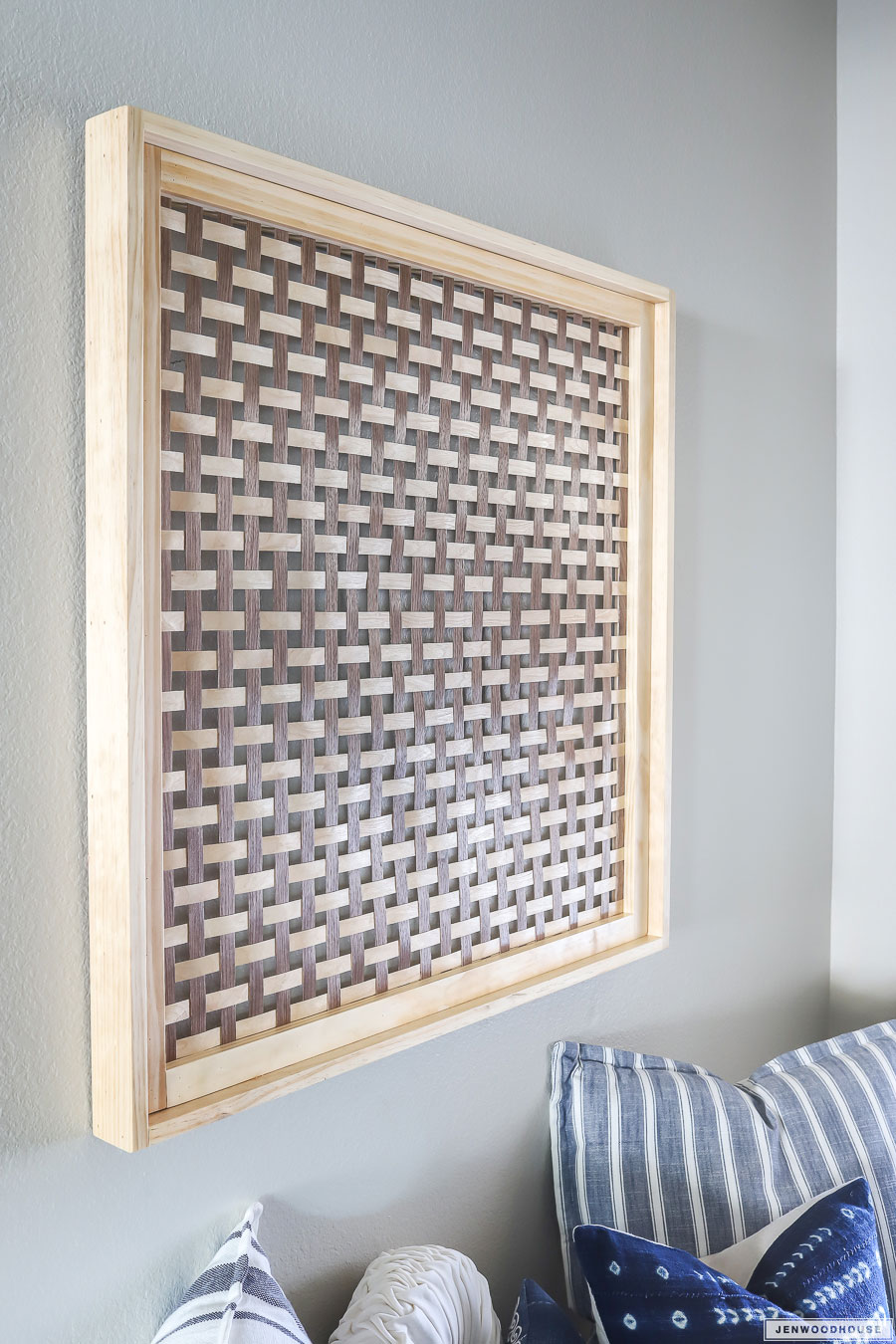 What do you think? Such a great statement art piece, right? And so easy to do! I Think I'm In Love!

SHOP THIS POST

Here's what my wooden wall art looks like against the dark walls in my bedroom – I love how striking it is: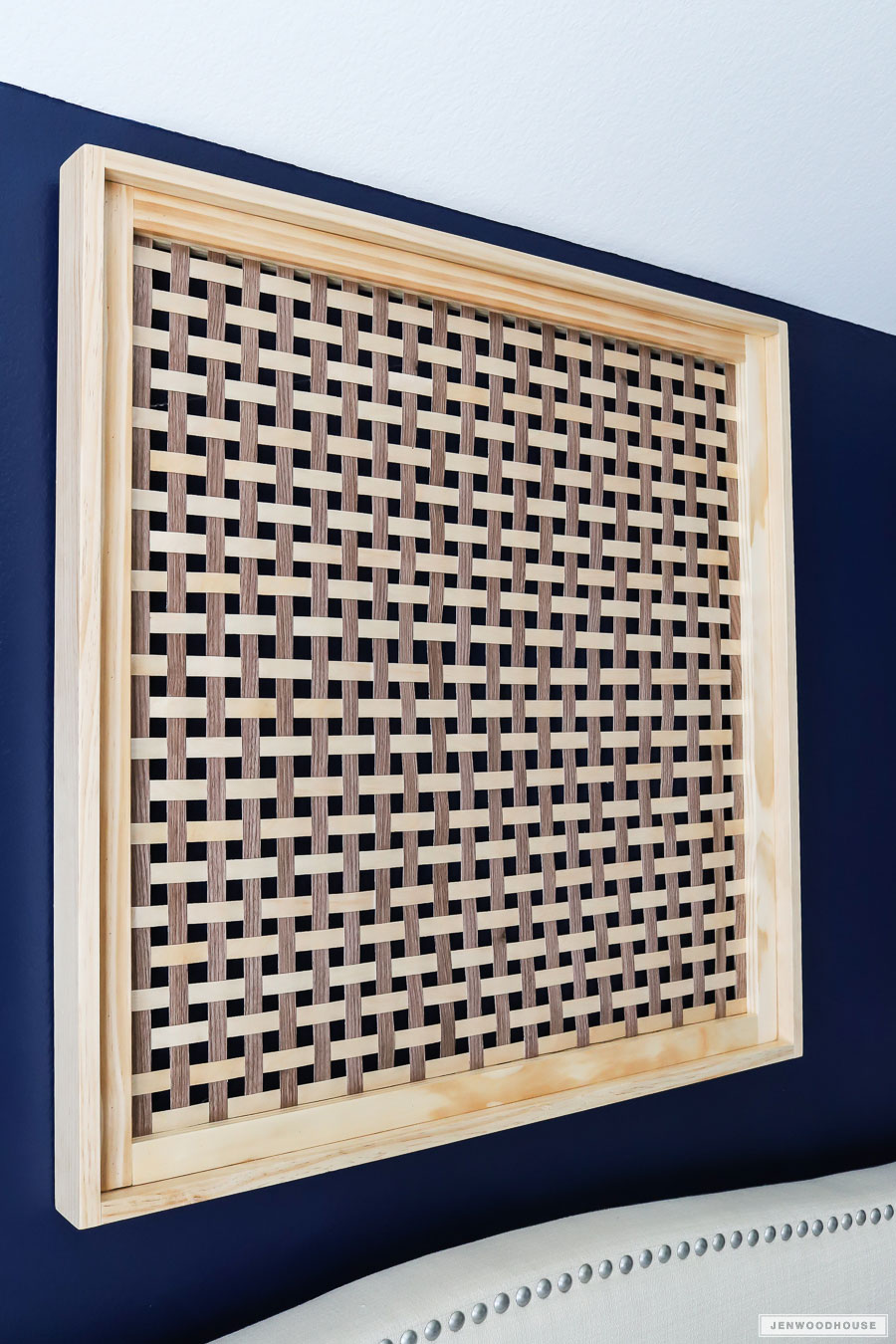 Thanks for reading, friends! So, tell me – how many hit pop songs did you know?
Catch you on The Flipside!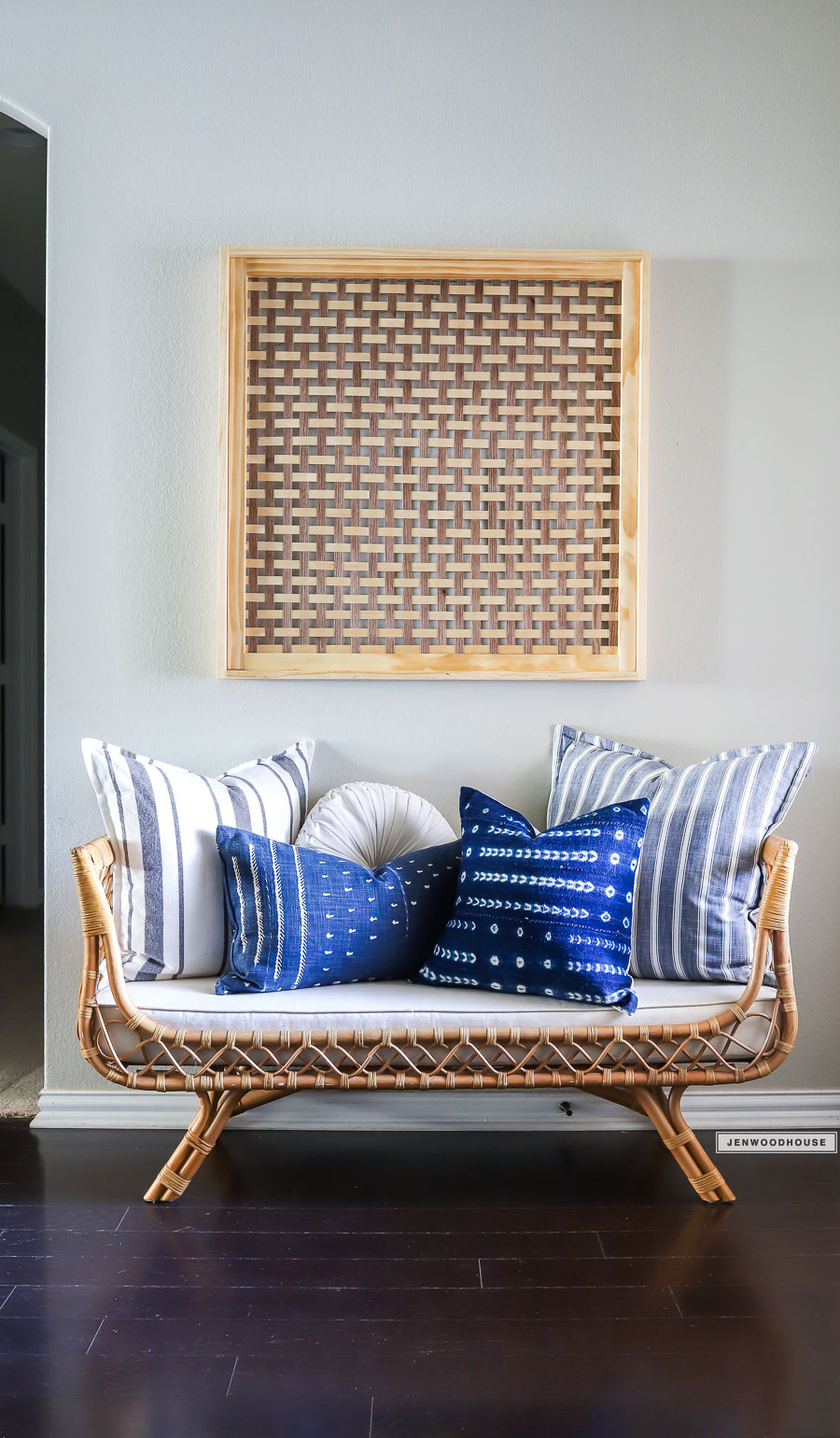 *This post contains affiliate links. To read my full disclosure policy, please click here.