If you've kept up with me on Instagram, Facebook, or Pinterest, you'll gather that I'm crushing on all things shiny and sparkly right now. Gold, crystal, mirrors… anything unapologetically girlie and glam has been my latest obsession. Gold, especially.
*This post contains affiliate links. To read my full disclosure policy, click here.
Last week, I shared a free printable that I made using Silhouette's printable gold foil. Not satisfied with just sticking the gold foil stickers on the paper, I embarked upon a DIY gold foil tutorial hunt.
Surprisingly, there isn't much information out there in the interwebs about how to DIY gold foil. I know, crazy, right? So I told myself, "Self, you will figure this out." Luckily, I stumbled across this handy video tutorial. God bless you, YouTube. Unfortunately, the tutorial recommends a pricey laminator. Because I'm cheap not willing to spend that much time and money on a passing trend, I decided to try my gold foil experiment (*experiment being the key word here) using this basic laminator instead. If all else failed, I could use it as an actual laminator. Imagine that. I wanted one that was at least 13″ wide just in case I ever wanted to laminate (or hot foil) 12×12 scrapbook paper.
Okay, onto my DIY gold foil experiment! You guys are going to flip out over how easy this is!
Here are the players:
Alright! Let's get started (and wish me luck)!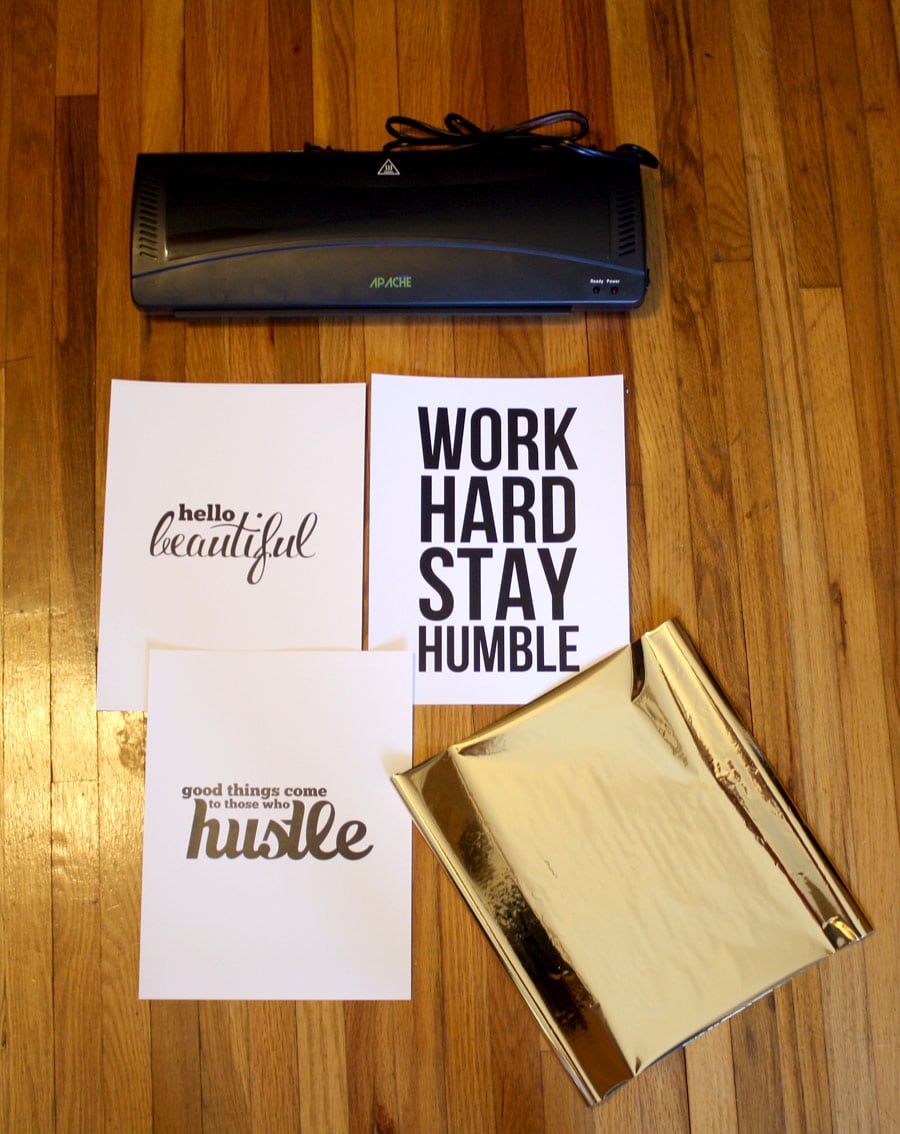 I created these black and white prints in Photoshop and printed them out on a laser printer. You should use a printer that prints with toner because it's what the foil will react with. You can print your image using a laser printer, or even a photocopier. Just make sure it's black and white and toner is what's used (not ink).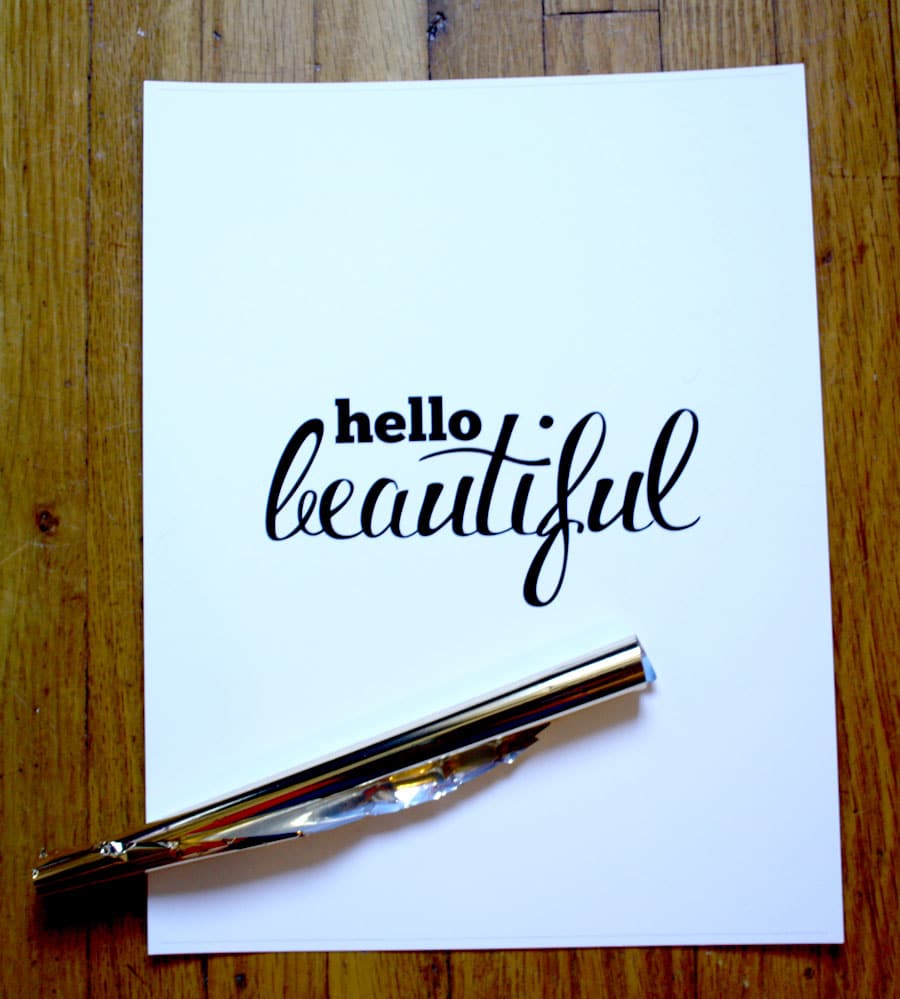 Next, I cut a piece of toner-reactive foil large enough to cover the image, gold side up, smoothed out any wrinkles in the foil, then put another sheet of paper on top, to hold everything in place (so that the foil is sandwiched between the two pieces of paper). Then I sent it through the laminator with my fingers crossed!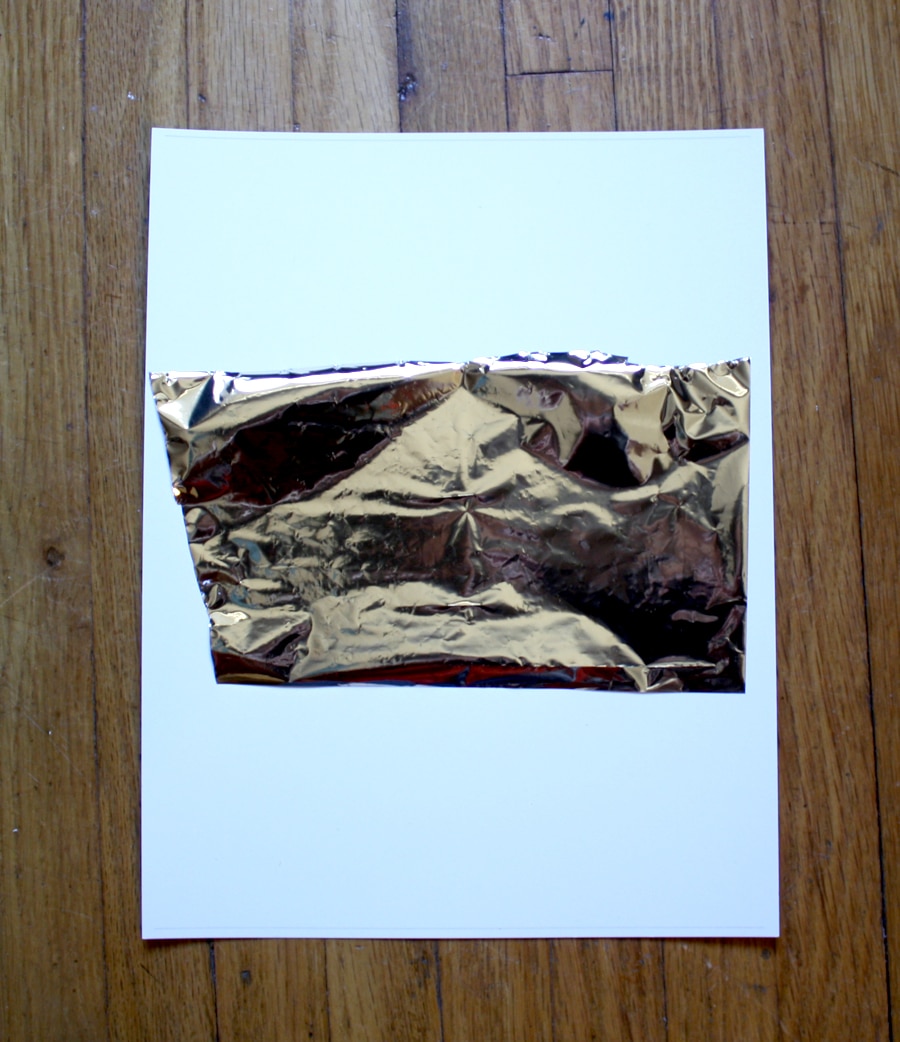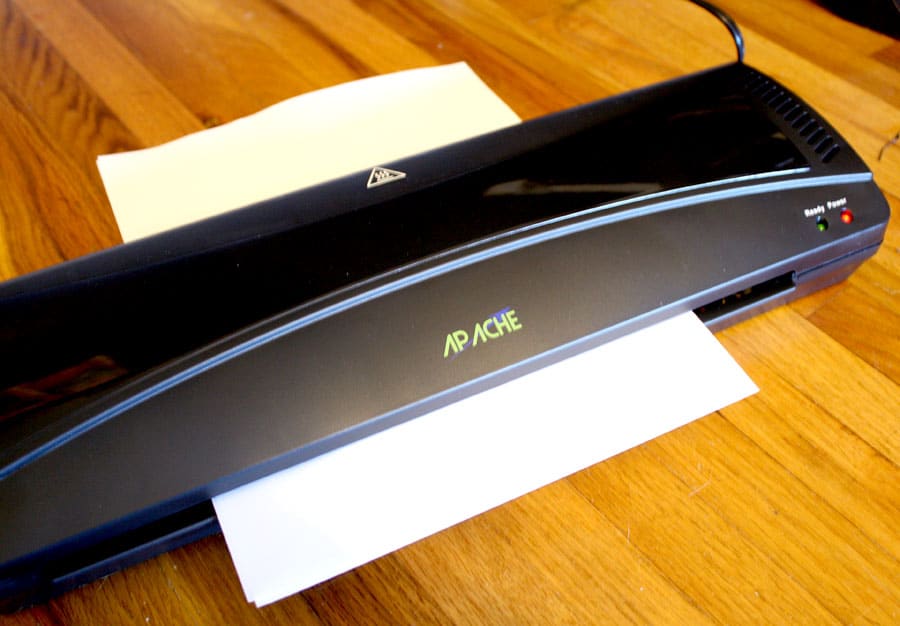 Once it came through the laminator, I peeled back the foil and this is what I found: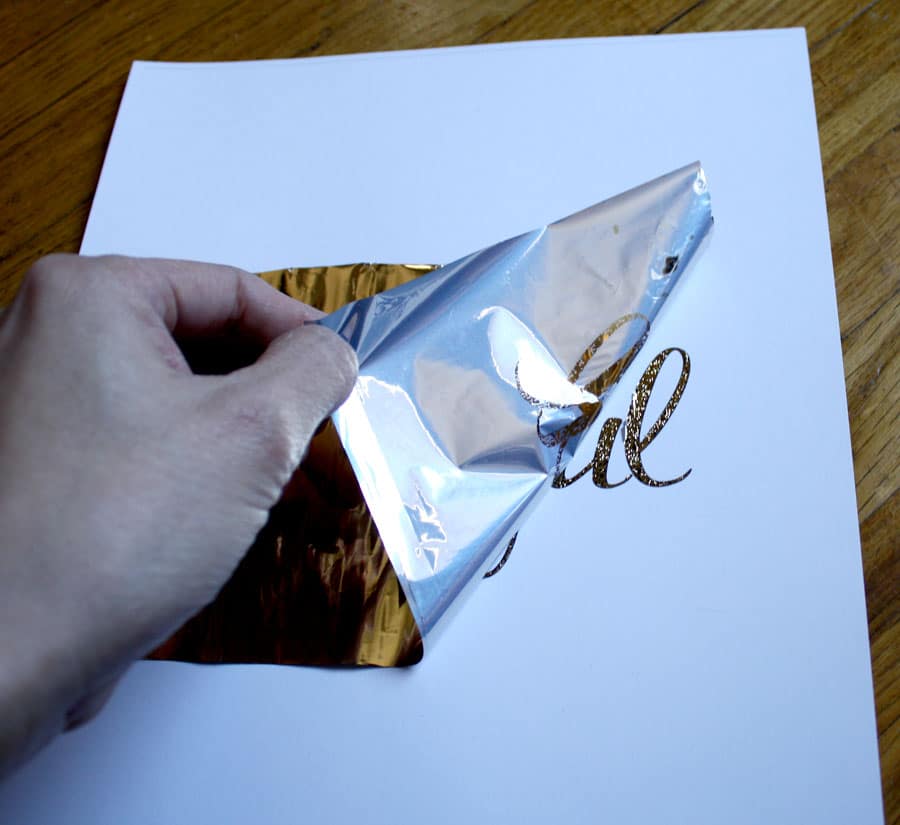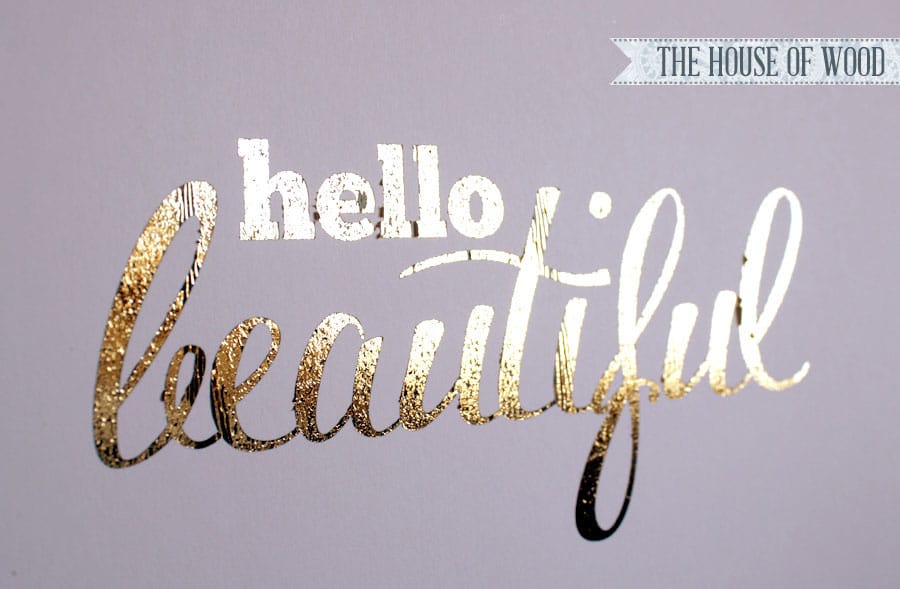 Me, oh, my! My very own DIY! (Gold foil print, that is.) It's far from perfect, and it certainly won't buy me a house on the hill if I were to sell them in my Etsy shop, but how neat, right? Here are my 2nd and 3rd attempts: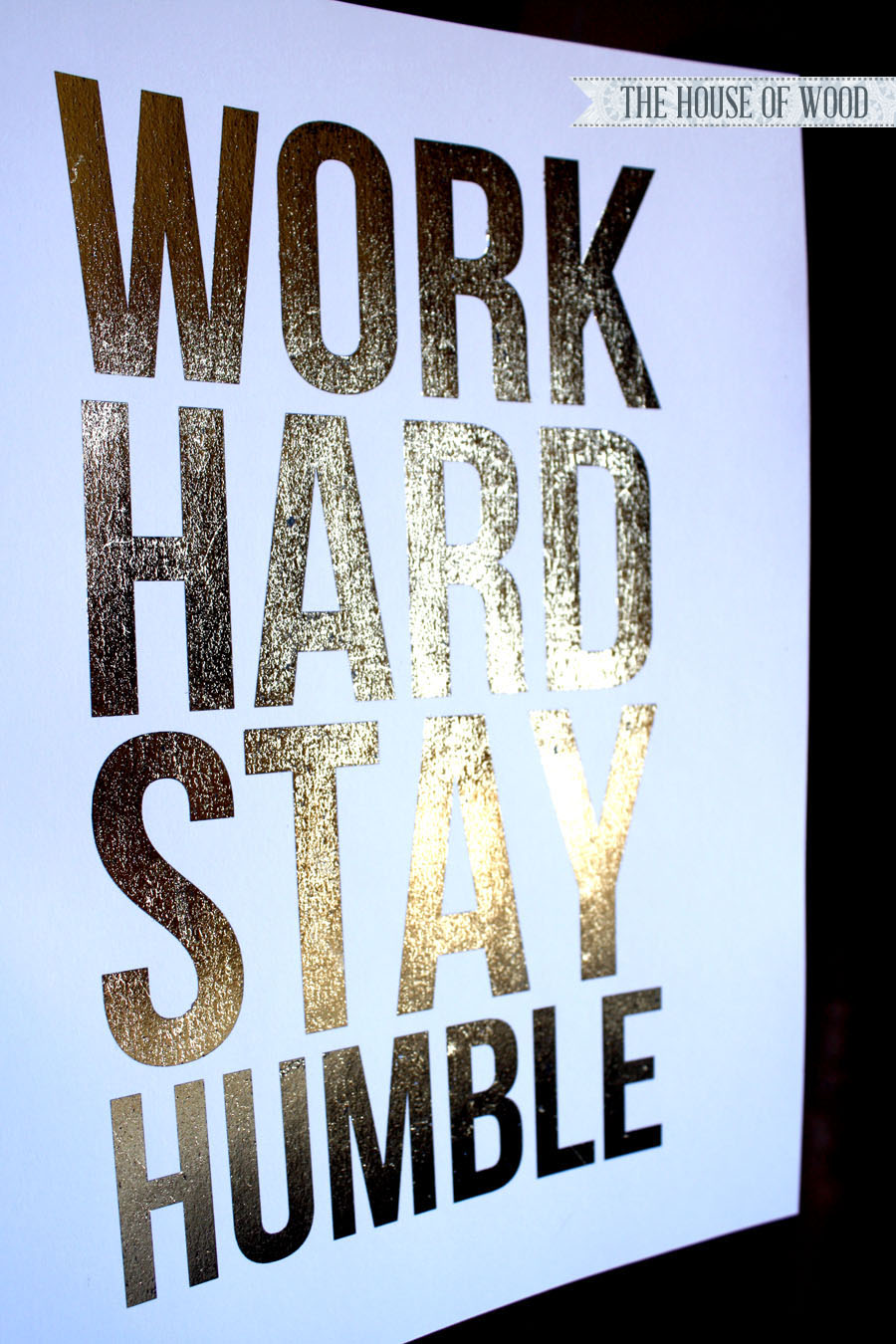 Ahhh, my preciousssss… so shiiiiiiny… And nothing says "Work Hard Stay Humble" quite like glam gold does, amiright? I mean, you can be hard-working, humble, and glamorous all at the same time. True story.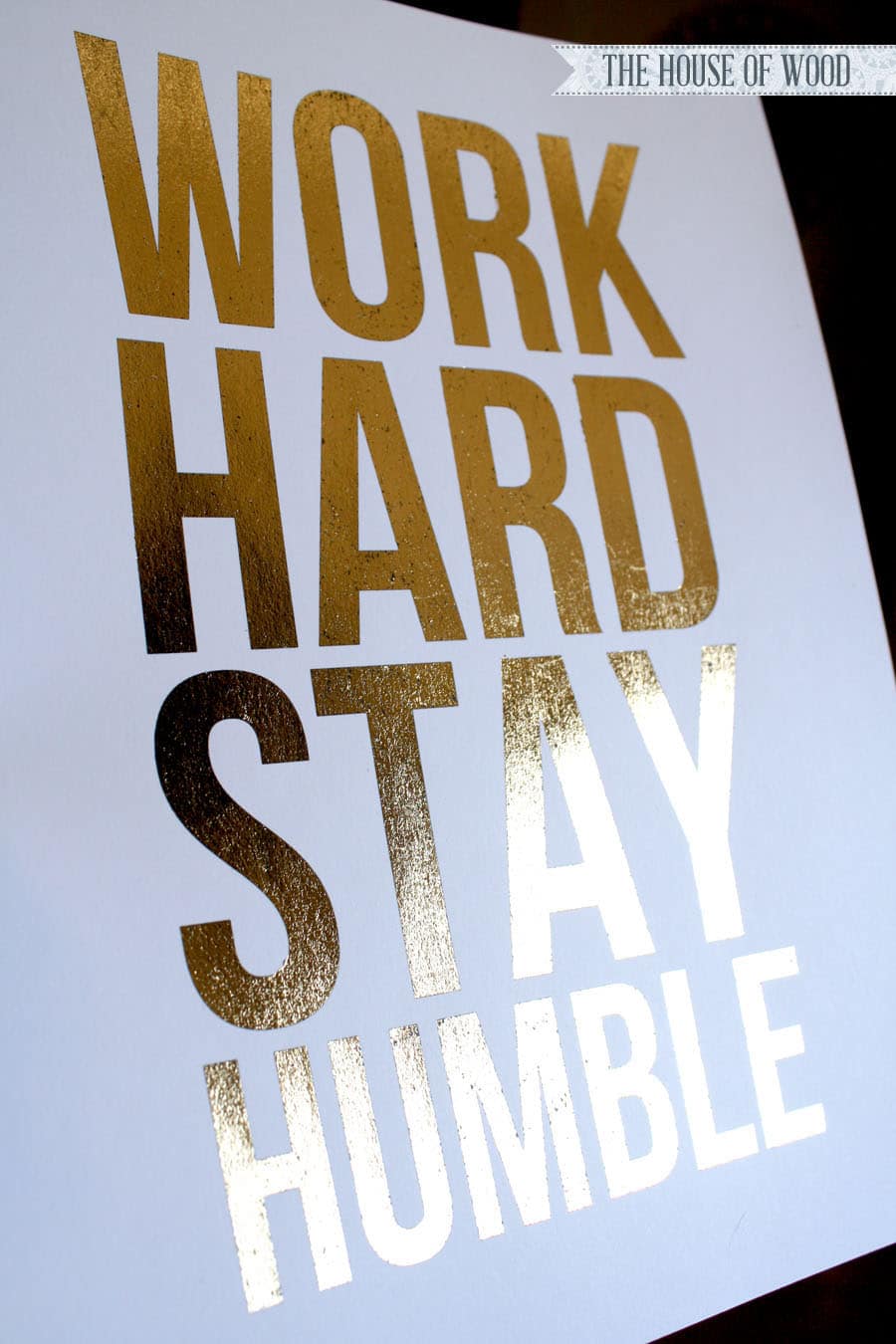 I also learned that lint and dust (or dog hair, in my case) is not good when hot stamping foil to paper. See exhibit A below: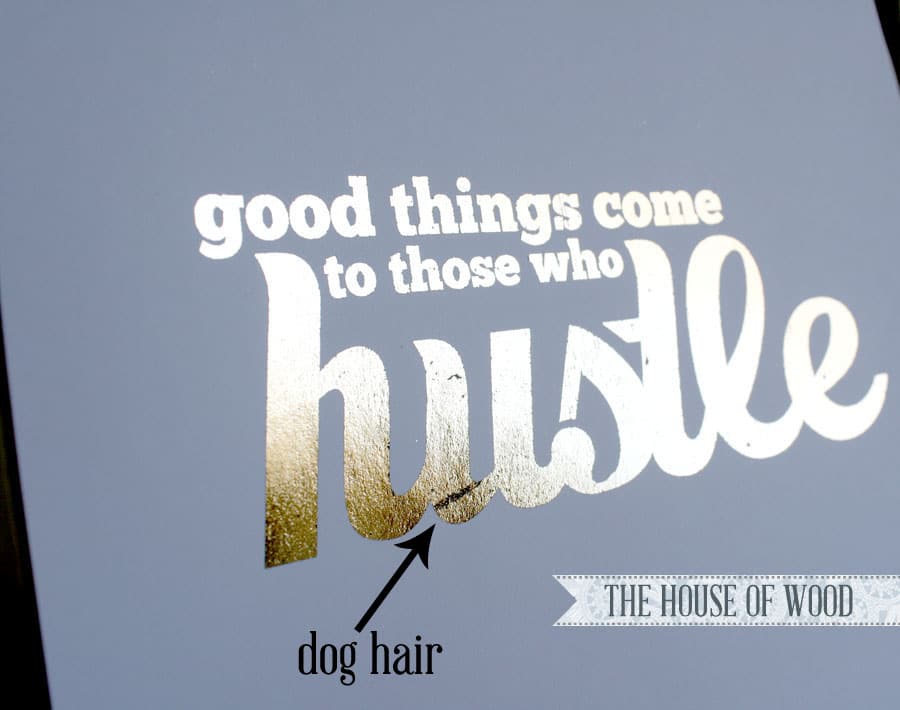 But overall, not a bad little DIY experiment, right? I imagine my DIY gold prints will look even better once they're framed and hung; you might not even notice the dog hair and other little imperfections (crossing fingers). What do you think? Huzzah for DIY gold foil prints!