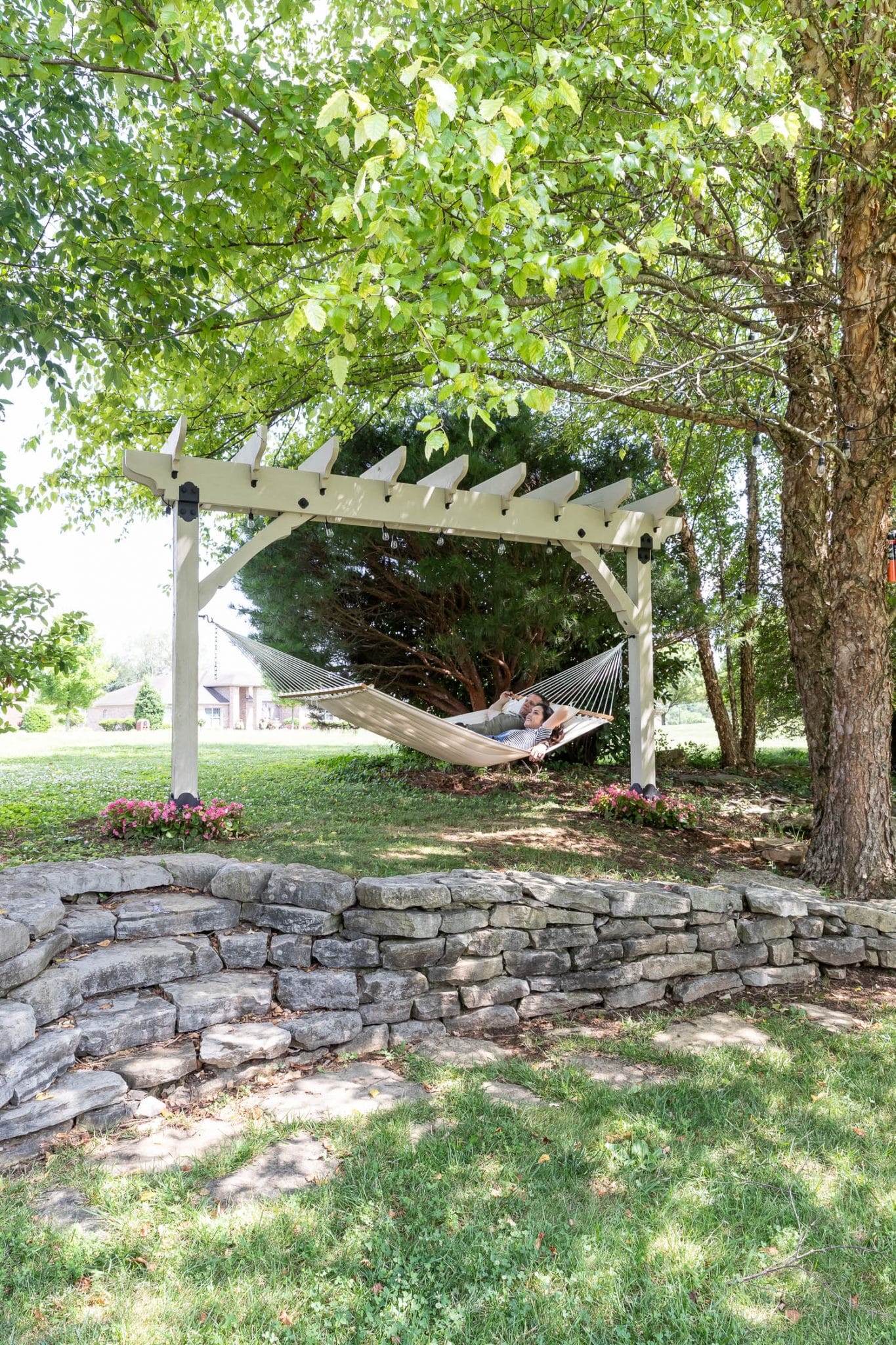 Hello and happy Summer! Outdoor projects are on the docket here at The House of Wood and we just built this transforming pergola hammock stand / outdoor projector screen. (It's a working title.) This was such a fun project that came together just beautifully, thanks our sponsor, Simpson Strong-Tie and their gorgeous Outdoor Accents hardware line.
How To Build A Pergola Hammock Stand / Outdoor Projector Screen
Watch the Video!
Tools:
Tape measure
Augur, post hole digger, and shovel
Level and string
Mallet
Clamps
Wood chisel
Safety glasses, hearing protection, dust mask
Materials:
(2) 12-ft 6×6 posts
(1) 8-ft 6×6 post
(4) 16-ft 2×12 boards
(1) 10-ft 2×12 board
2×4 studs and wooden stakes
Wood screws
Paver base and concrete mix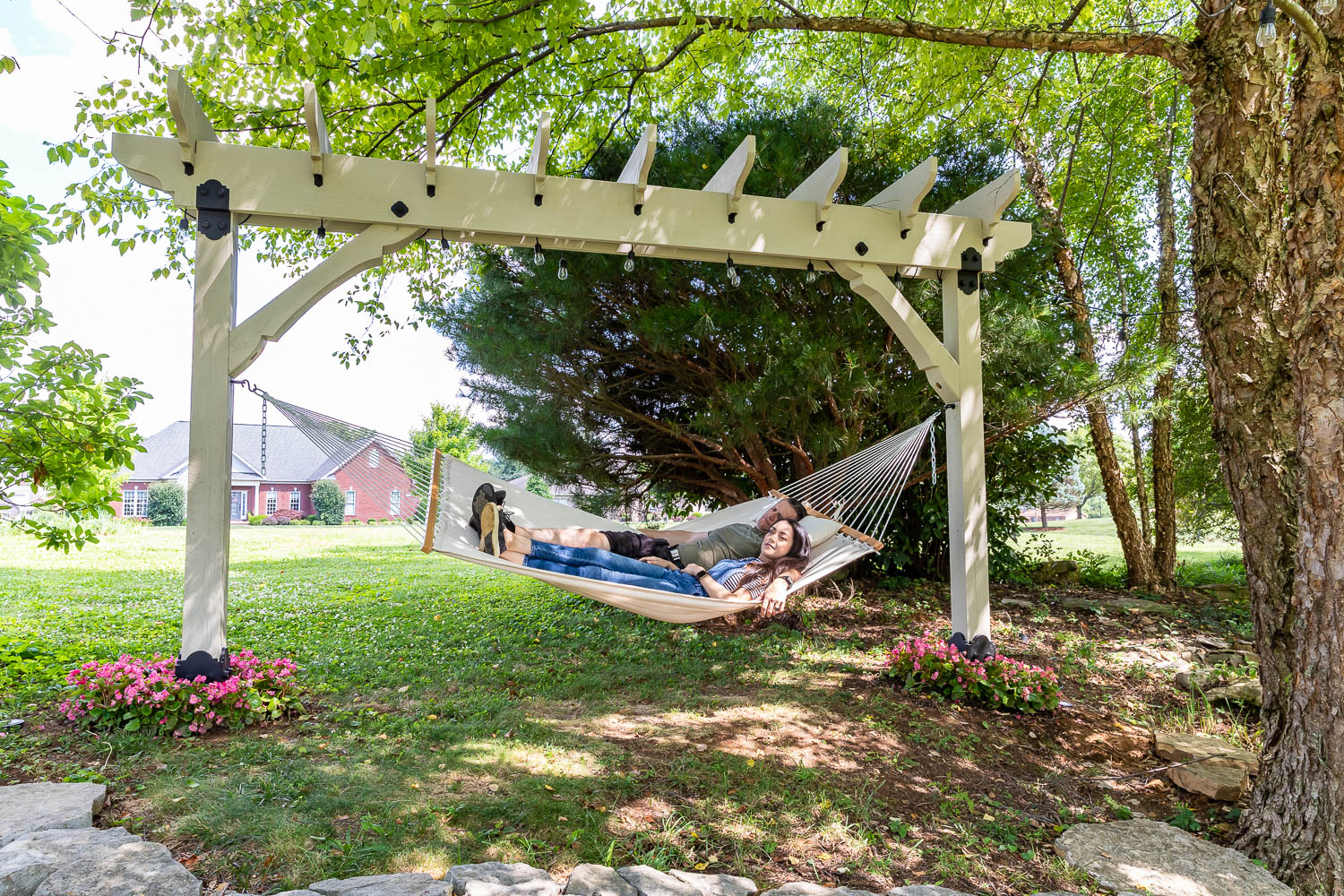 Simpson Strong-Tie Outdoor Accents Mission Collection
Download the Plans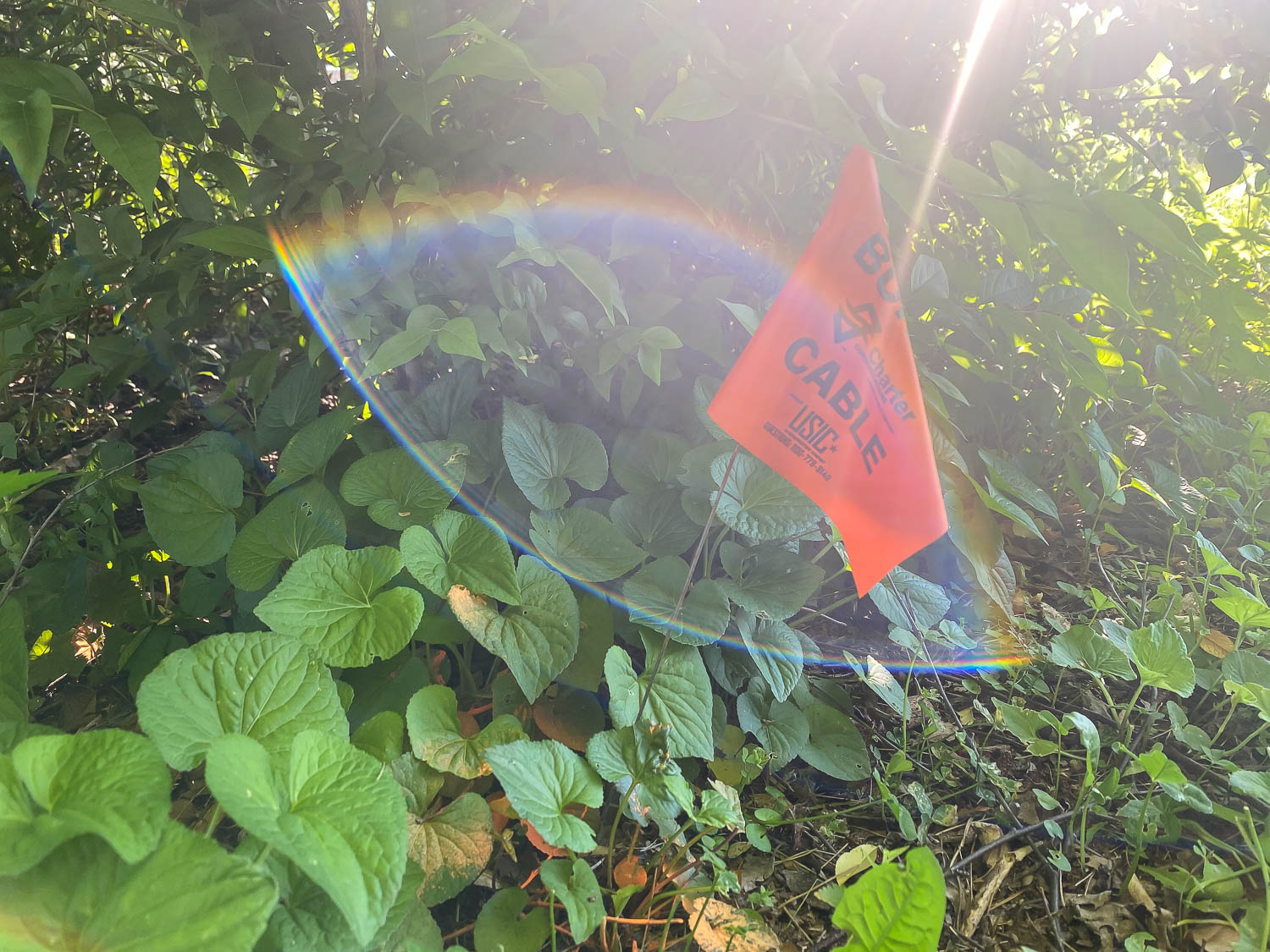 Call Before You Dig
The first thing we had to do was call 811 to make sure there were no utility lines or cables running underground, where we would need to dig to set the posts. The utility companies came out, flagged where the cables were, which is nowhere near where we'll be digging, so we're in the clear. Depending on your local codes, you may need to acquire a permit to build a structure like this one.
Simpson Strong-Tie has recently created a free, web-based pergola planning software that allows you to design and customize your dream pergola or pavilion. It takes all the guesswork out of it, ensuring that your structure is strong, safe, and sound. It also generates a materials list, permit submittal pages, and dealer locator, so you can plan, design, gather materials, and get building. Check it out here.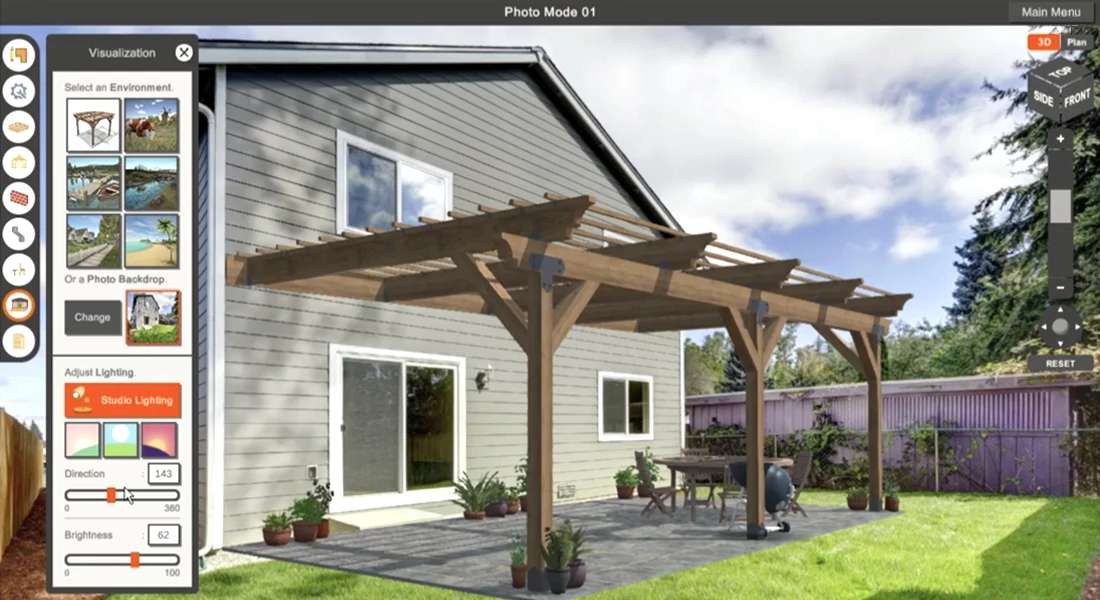 Set the Posts in Concrete
We roughly mapped out the location of the 6×6 posts by laying the hammock down on the ground and kind of eye-balling things. Our hammock is 12 feet long, so we decided that the posts should be about 13 feet apart. This is the 2-person hammock we bought. We borrowed an augur from our good friend Josh and Adam got to digging. He dug down about 2 feet deep, making the hole about 10 inches in diameter. Then he poured a little paver base down in the bottom and tamped it down.
Next, we dropped the posts down into the hole and used a level to make sure it was level and plumb. Then we used some scrap 2x4s and stakes to brace the posts in place so we could pour the concrete. We poured dry concrete mix down into the hole and added some water and mixed it around until it was a peanut butter consistency. You could also mix the concrete in a wheelbarrow, which we've done before, but we figured this way might save us some time. I'm not sure if it did, but either way, it worked. Then we gave the concrete a few days to cure.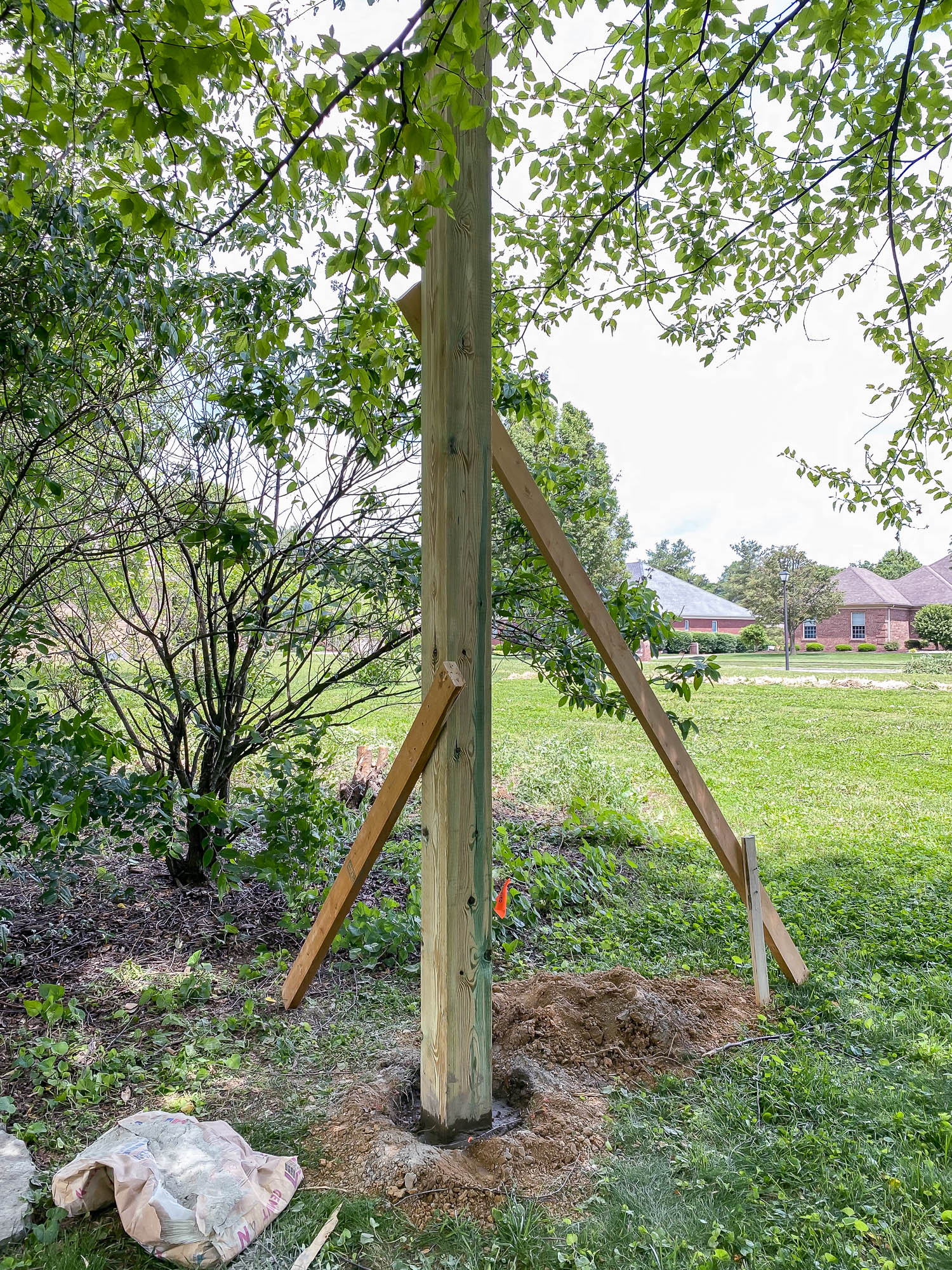 When setting the posts, we had to make sure that they were both facing the same way – meaning, one wasn't twisting in a different direction. The faces of the 6x6s were parallel so that when we attach the beams overhead, everything will lay flat and even. We used pressure treated lumber for this project and it normally wouldn't be that expensive, but because lumber prices are absolutely absurd these days, we ended up paying around $600 for the lumber (ouch!).
Cut the Beams
While the concrete cured, we got to work on cutting out the pergola parts. For the beams, we used a couple of 16-foot 2×12 boards. We first cut them to length with my track saw and then started cutting the notches. I like how this design has notches in both the beams and the rafters so everything should fit together like a puzzle. We clamped the beams together so that when we make our cuts, the notches will line up. We measured and made our marks, spacing the notches out evenly across the length of the boards and used a handheld circular saw to make multiple cuts. Then we just popped out the slivers and cleaned up the cuts with a chisel. This part was super satisfying and fun. Whichever circular saw you're using, make sure it's big enough to make these deep cuts.
Cut the Rafters
Next we cut the 2×12 rafters to length and clamped them all together so that we could cut the notches all at the same time. This not only makes for more efficient work, but our cuts will be more precise too. Be sure to wear a dust mask because this pressure treated stuff is nasty! Now that the notches are cut, pop those slivers out with a chisel – that cracking sound is so satisfying.
Cut the Curves
To cut the curves on the rafters and beams, I used a jigsaw. I'm so glad we added this curved detail because it makes the whole structure so much prettier. Once the first cut was made, I was able to use it as a template for the rest of the rafters. Lather, rinse, repeat, etc. etc. Then I just hand sanded the edges smooth. FYI: this rafter tail design is called a Roosevelt Step. This template is included in the plans as well – you're welcome! I want you to build this pergola hammock stand and tag me on social media (@jenwoodhouse) so I can see your work!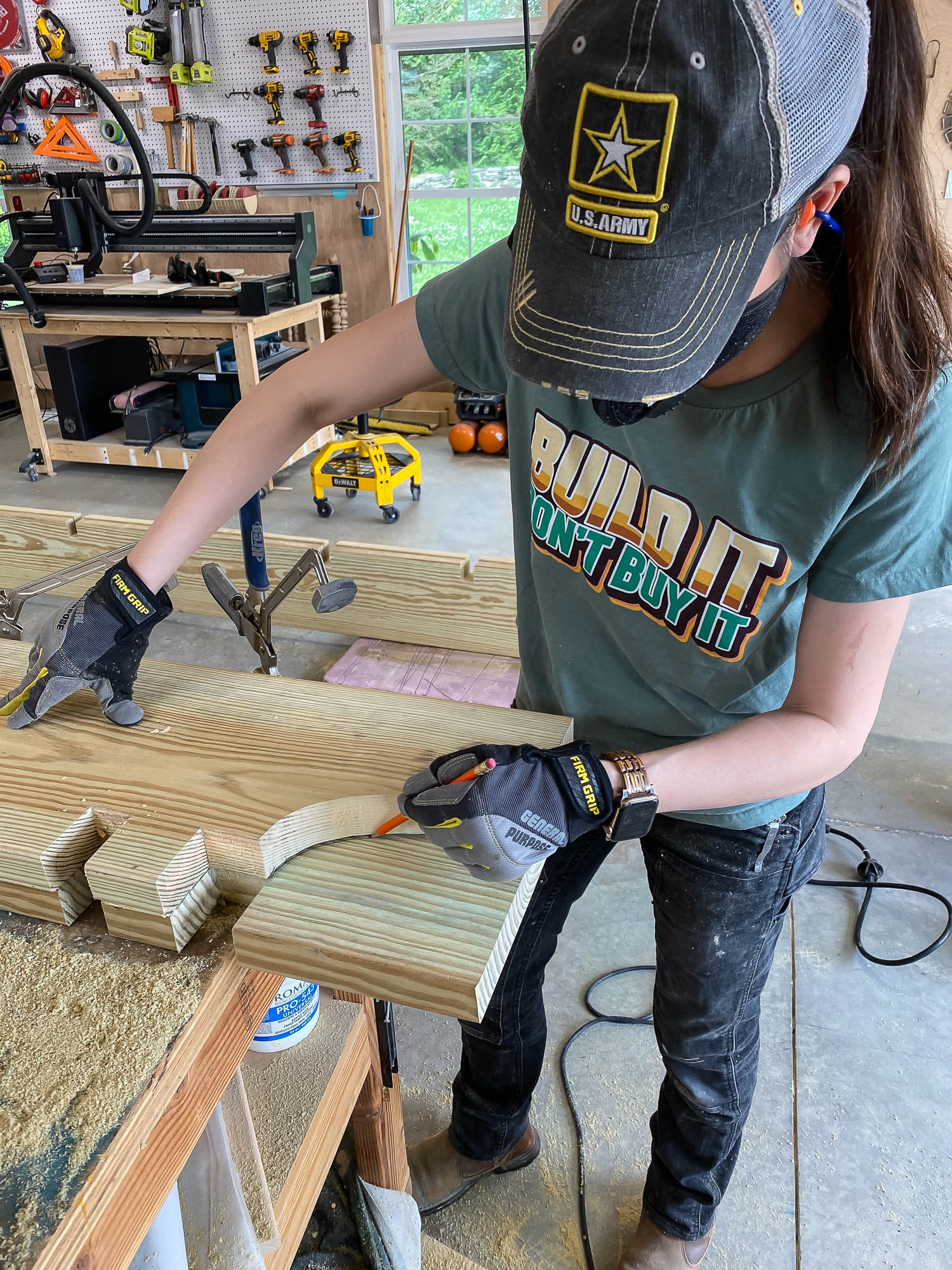 Outdoor Accents Mission Collection
If you've seen any of my other outdoor projects, you know that I love, love, love Simpson Strong-Tie's Outdoor Accents hardware line – these black, powder-coated connectors really do make building an outdoor structure like this one SO easy, super strong, and SO beautiful. Check out the pavilion we built in two days. And the floating deck and pergola we built for a military family a few summers ago.
Trim the Post Height
Once the concrete set around the posts, it's time to trim the height of the posts. We measured one post at 8 feet tall and marked it, then tied a string from that post to the other, hung a level on it to make sure the other post would be level and even, and made our mark. Because the ground is so uneven, we had to cut the posts at different lengths for everything to match up. We used a circular saw to make those cuts, but you could also use a reciprocating saw or even a chainsaw if you wanted to. On one of the posts, we actually had to break out the reciprocating saw because the circular saw didn't cut all the way through.
Cut the Angled Knee Braces
We've got the beams and rafters cut, now it's time to cut the angled braces. These are also 6x6s, like the posts. Adam first used a reciprocating saw to cut the 45º angle on each end, but we found it was taking too long, so he switched to a circular saw to try to speed up the process and then finished up with the recip saw. He initially wanted to use a chainsaw because it would be faster, but I admit – I didn't have much faith in his chainsaw prowess. But he proved me wrong – he made the cut and it was accurate enough.
A Maker Cameo Appearance!
Because there are curves on the beams and rafters, I wanted the braces to match that look, but I don't have a tool in my shop to make these curved cuts on a 6×6 safely even with Adam being a chainsaw master, so I hit up my friend and fellow maker, Bob from I Like To Make Stuff and he offered up his bandsaw for this. We took a fun field trip to the official I Like To Make Stuff workshop where Bob gave me a crash course in how to use a bandsaw! Maybe cutting a 6×6 post wasn't the best bandsaw project for a beginner like me, but we got it done with all fingers intact. I'm so thankful I had Bob's help!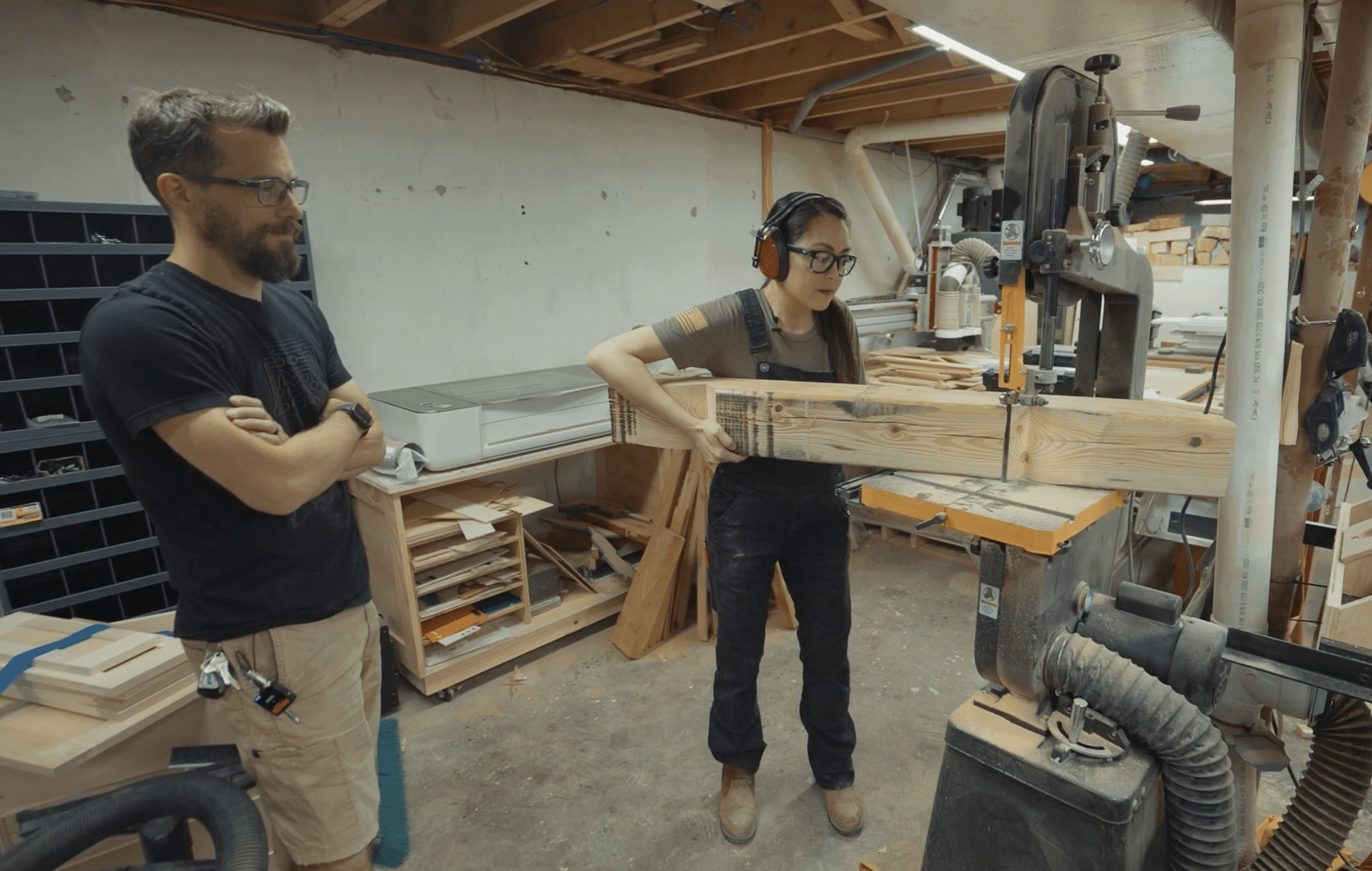 Paint or Stain Pergola Parts
Before assembling the pergola hammock stand, I stained the parts with an exterior-grade stain. I wanted an opaque color that complemented our house. I just brushed it on and let it dry – it only took one coat. It would have been faster to use my paint sprayer, but I was too lazy to do the whole prep and setup required. After a few hours of brushing on this finish, I was regretting that decision. I probably have carpal tunnel now. Perfect.
Assemble the Pergola
Now it's time for the fun part: assembly! Assembly will go really fast. We were able to put this thing together in a few hours. We measured the height placement of the Strong-Tie connectors and screwed them on. The structural wood screws and hex head washers look like a bolted connection, but installation is as easy as driving in a screw. I love the chunky look it has too. These connectors are not only beautiful, but structural too! This is the Deck Joist Tie from the Mission Collection. They're heavy duty, strong, structurally sound, and just gorgeous. And you don't have to pre-drill when using these structural wood screws which saves time and effort. We screwed the joist ties onto the post and hoisted the beams into place then secured them with more structural screws and hex head washers.
Add the Rafters
Next it was a matter of dropping the rafters into each notch. Most of these went in without issue, but there were a couple where we had to widen the notch to accommodate the rafter. Adam did this with a reciprocating saw. Then we added the 90º angles for added security.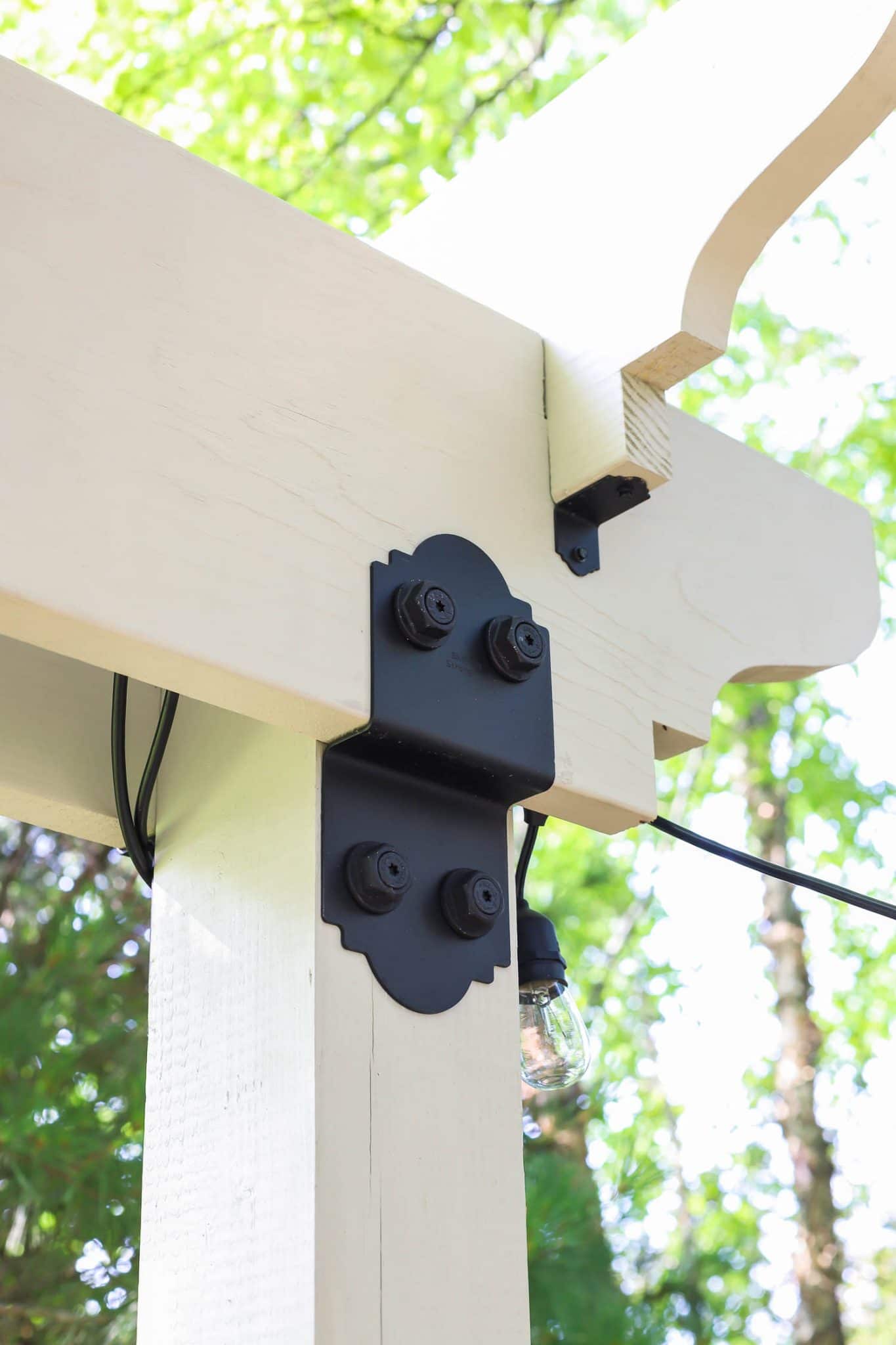 Attach the Knee Braces
Finally, we attached the braces with the same structural wood screws and hex head washers. We used a forstner bit to countersink the holes at the bottom of the braces so that the hex head washers would be inset into the 6×6. Then we secured the top of the brace and added the decorative rosettes.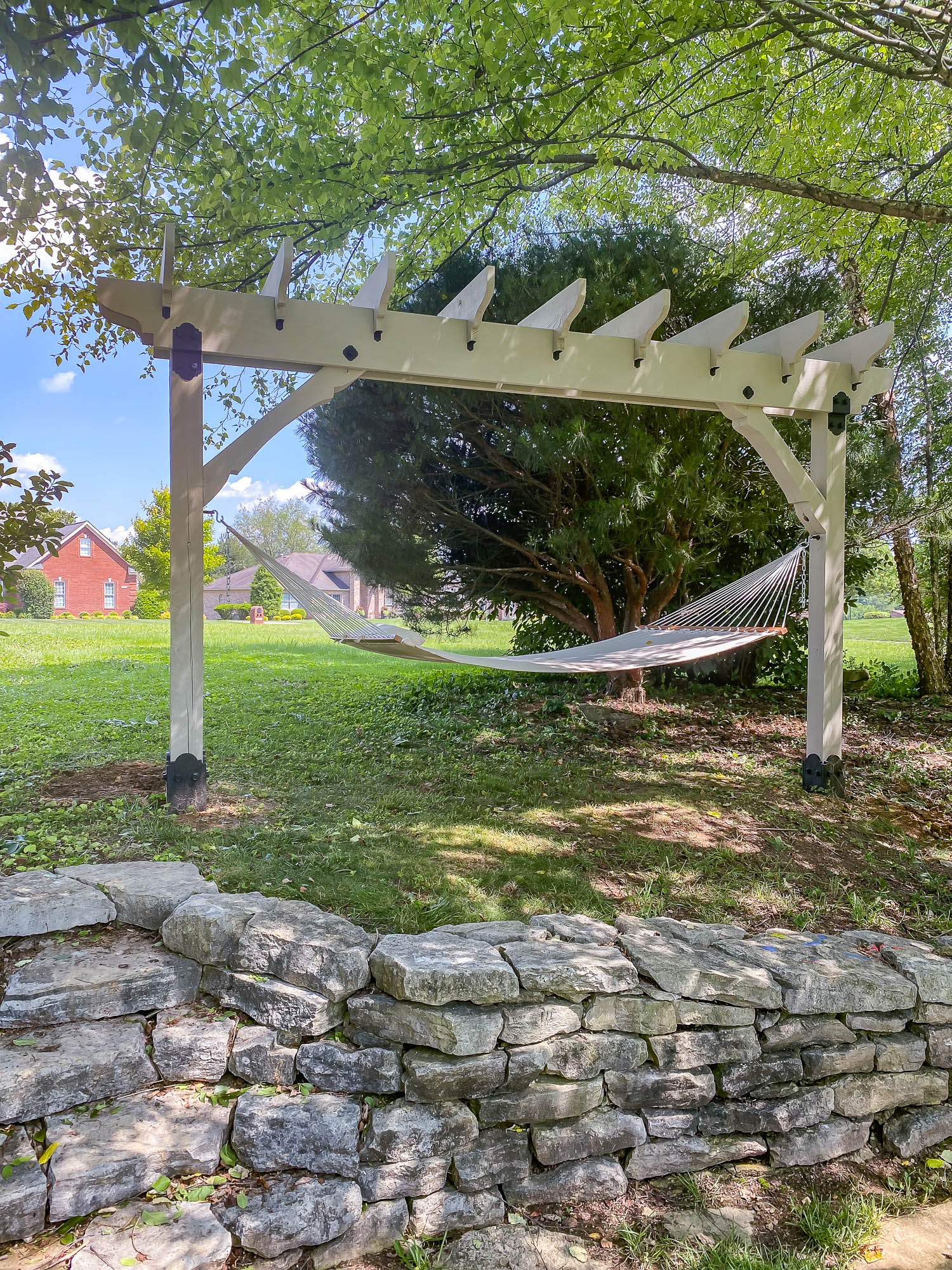 New Simpson Strong-Tie Products
Simpson Strong-Tie has just come out with these new decorative post bases, so the bottom of our pergola hammock / movie screen will look finished and beautiful too. The four parts screw together easily and wrap around the base of the post. And here's a sneak peek of another new Strong-Tie product: this bottle opener (coming mid-August)! Because we need to have a drink while we're laying in the hammock, right? I mean, if we're going to live this life, we're going to live it well.
Install the Hammock Hardware and Retractable Projector Screen
For the hammock hardware, Adam used a long drill bit to drill all the way through the post, then inserted a bolt with some washers and a nut to secure everything. Then we hooked on a couple of S hooks and hung the hammock up. For the retractable movie screen, we screwed a couple of hooks at the top so we can easily hang it up when we want to switch it out.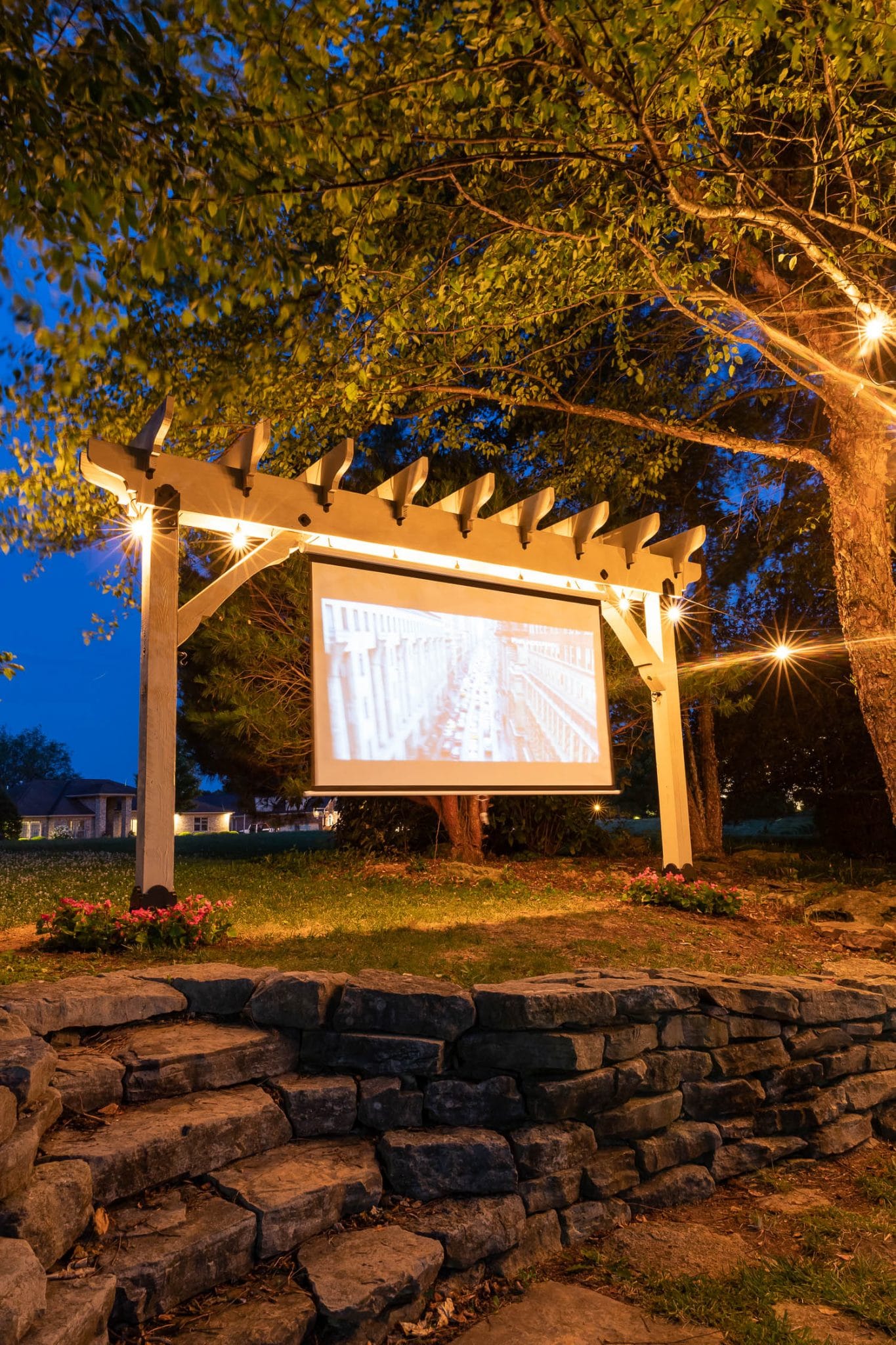 Thanks again to our sponsor, Simpson Strong-Tie, for helping us bring this project to life – we absolutely LOVE how it turned out! Their Outdoor Accents line made this whole structure come together quickly and easily. If you need us, we'll be relaxing in the hammock for the rest of the summer. Cheers!