Hello and happy Spring! Are you guys ready for a week's worth of Spring loveliness? I'm thrilled to be joining several of my talented blogger friends in The Seasonal Simplicity Home Tour, hosted by April from House By Hoff and Krista from The Happy Housie. All week long, 25 bloggers are sharing our homes all decked out for Spring. If you're visiting from Refresh Restyle, I'm so glad you're here! If you just randomly stumbled upon this post, I'm equally glad you're here!
Welcome, everyone!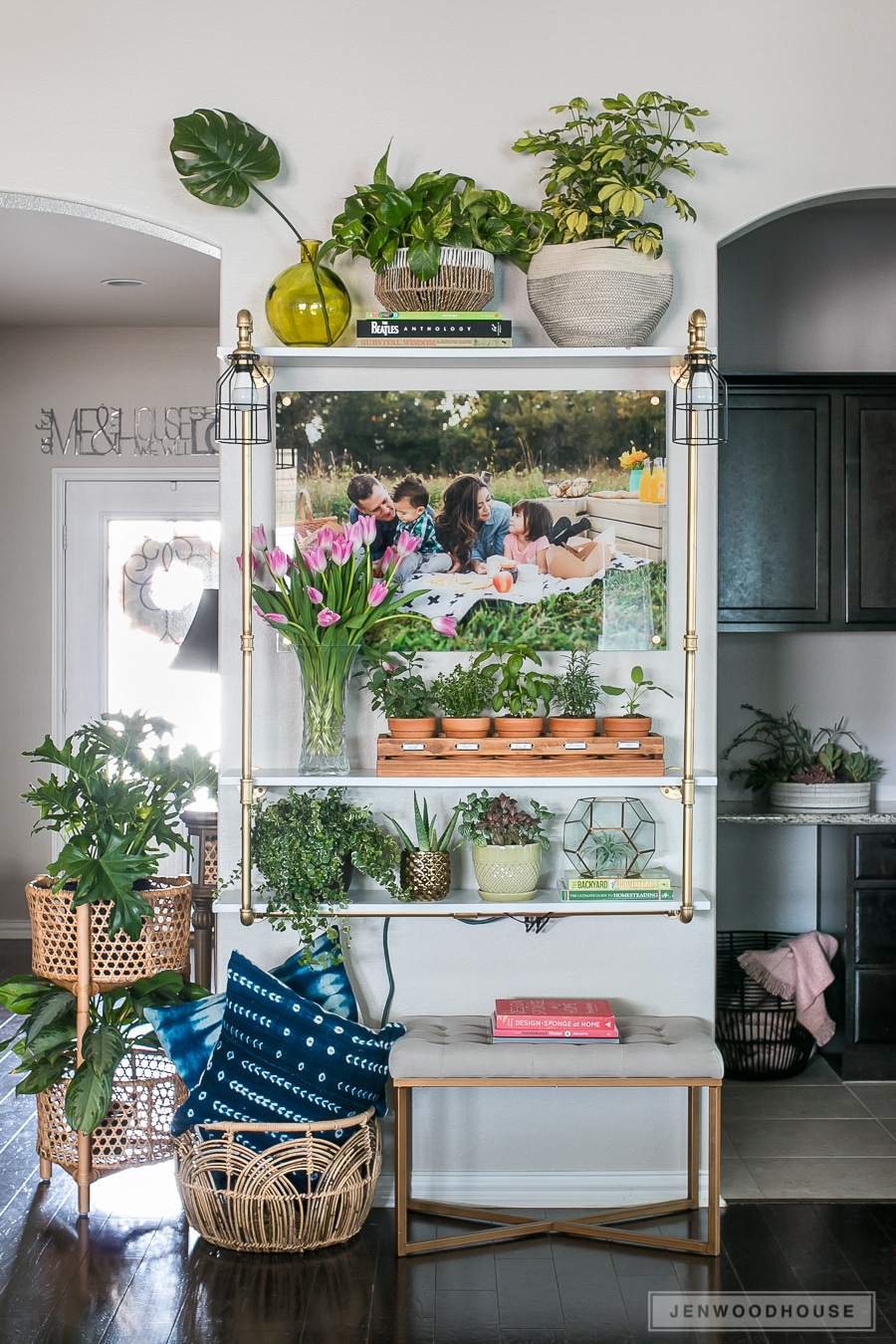 *This post contains affiliate links. To read my full disclosure policy, please click here.
If you recall, I built this DIY lighted pipe shelf out of a few supplies from Home Depot. The tutorial is on The Home Depot blog. By adding a vase of fresh flowers and a small herb garden to this shelf, I was able to 'Spring-ify' this space. Decorating for Spring doesn't have to be extensive or expensive. And nothing says 'Spring' quite like tulips, amiright?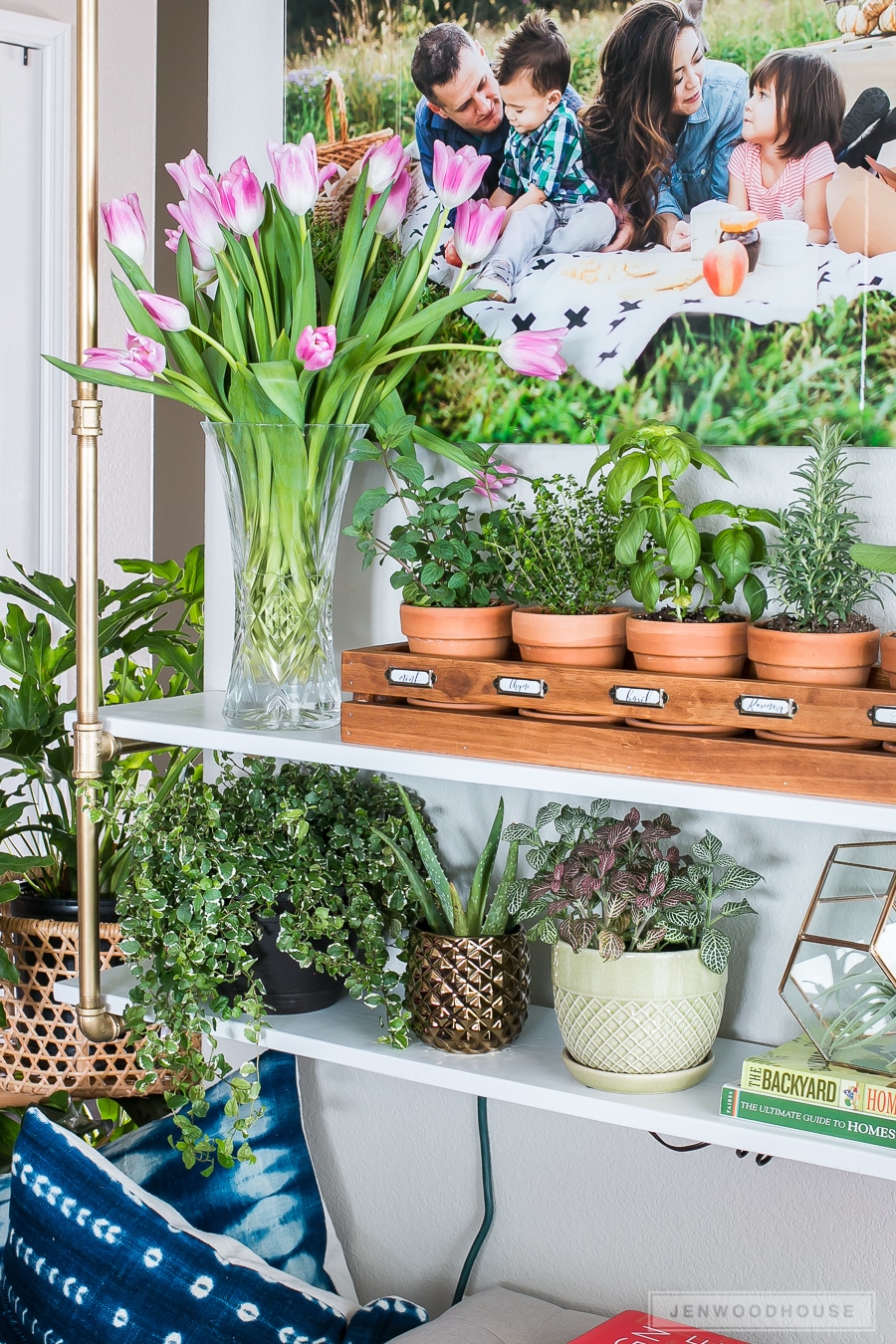 SHOP THIS SPACE

In the living room, I switched out some throw pillows, added more plants and fresh flowers to the mix and BAM! Spring has sprung.
By the way – let's take a moment to talk about these navy velvet pillow covers… BEST. PILLOWS. EVER. They feel amaaazing and I bought them from Amazon for $17! What a steal. I have them in a few different colors because sometimes I just can't help myself.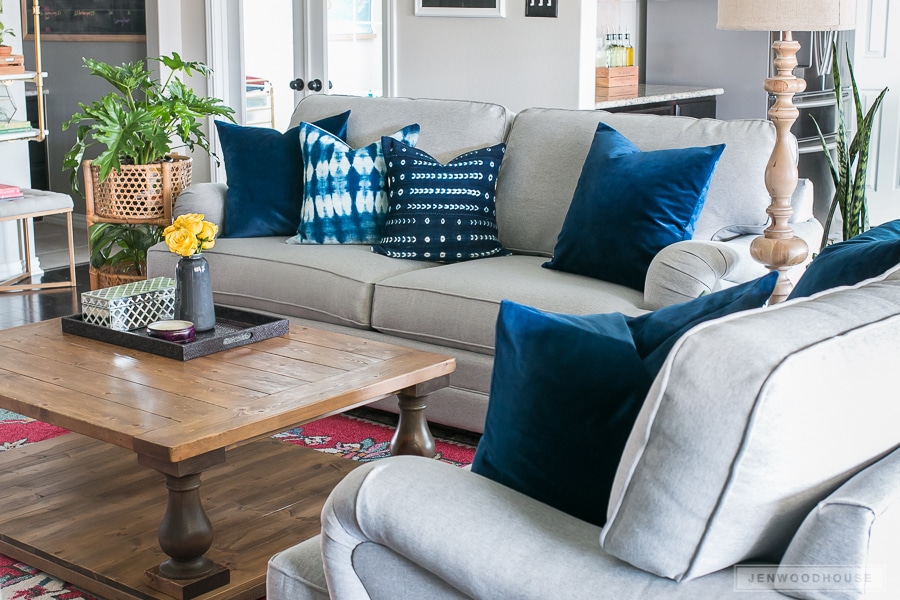 I wish these photos had feel-a-vision.
I seriously wish you could feel my pillows.
That sounded better in my head.
SHOP THIS ROOM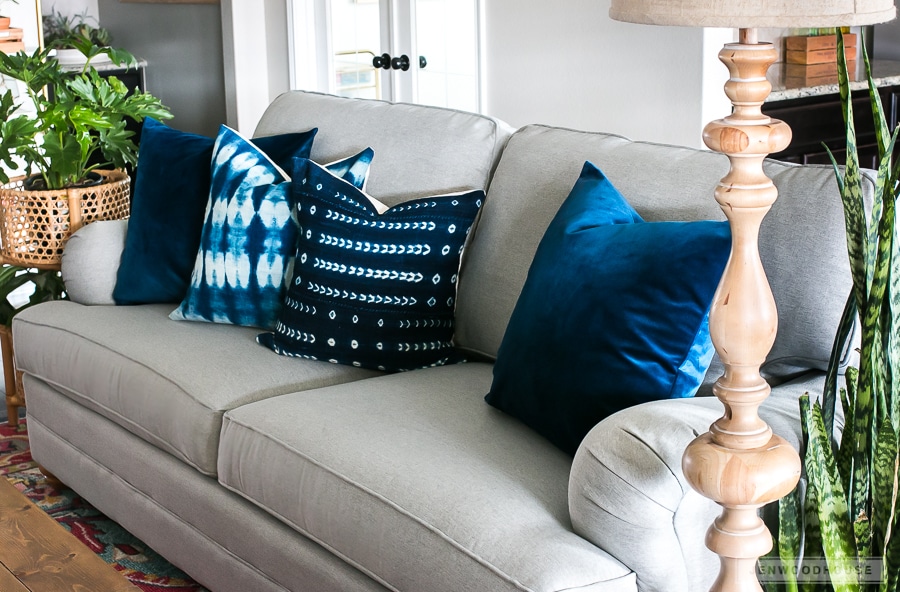 Speaking of larger-than-life photos, I have to give a shoutout to my dear friend Aniko of Place of My Taste. I just love this girl to death. She's not only a gifted photographer, interior designer, and artist, but a kind and generous friend. When I asked her how I could make my photos brighter and more beautiful, she took the time to walk me through her photo-editing process in Adobe Lightroom. She's a Lightroom wizard, by the way. In fact, she wrote the book on it. Her photos are absolutely stunning; she is such a talent. And good news – she's sharing her Spring home tour today too so be sure to check it out.
Psst… want to build this balustrade coffee table? Grab the plans here.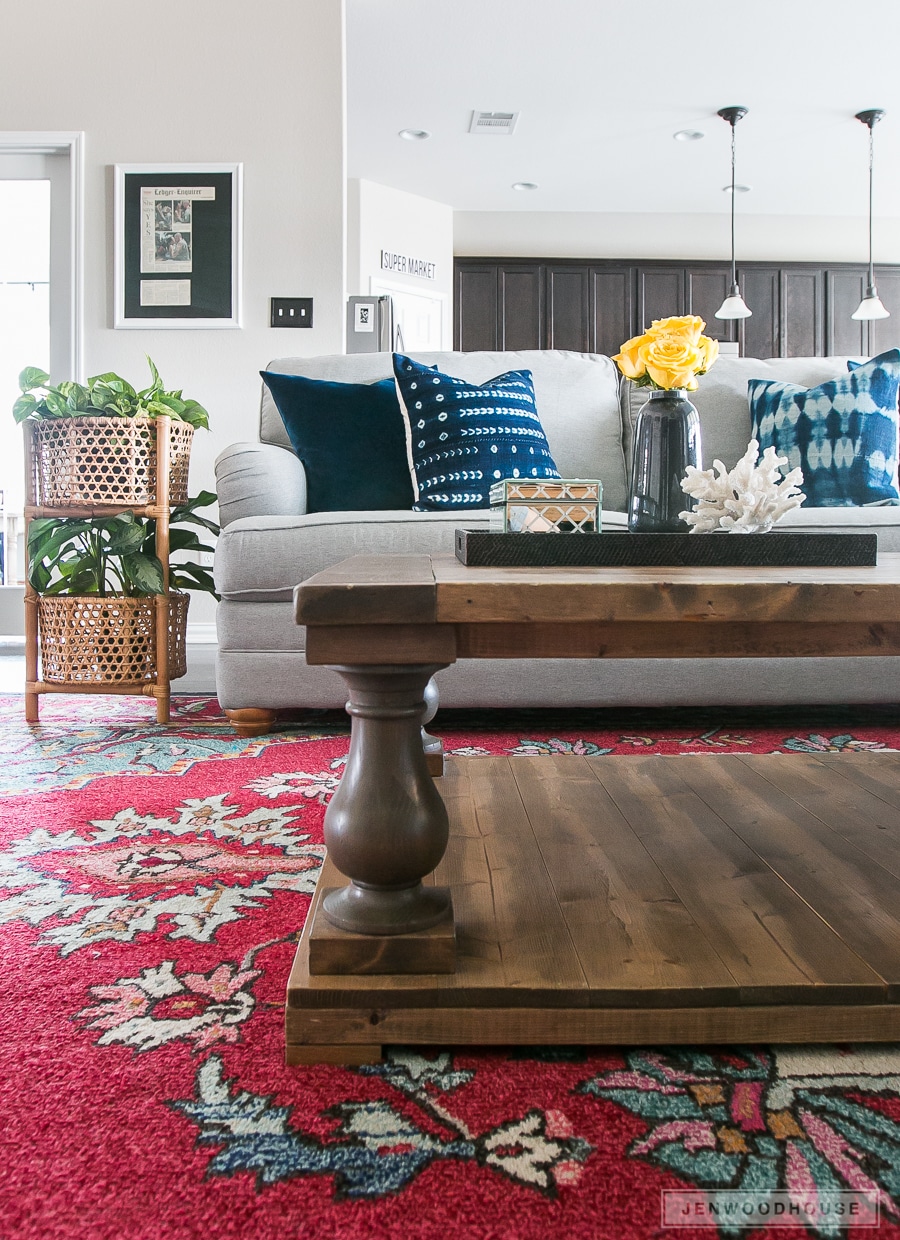 Is it weird that I actually don't like yellow roses, and yet… here they are, sitting on my coffee table, mocking me.
Allow me give you the back story.
Yellow roses remind me of a girl I used to – how do I say this – not like so much ('loathe' is such a strong word). She was the girlfriend of my high school crush so by default, I continuously gave her the side eye. She was no Yellow Rose of Texas, but I'm sure she was a lovely girl. After all, she managed to snag the boy of my high school dreams. Anyway, said teenage boy crush would give yellow roses to his girlfriend (because they were her faaaaaaave omg you shouldn't have!) and for that reason, I must have developed a bit of an aversion to them. To this day, yellow roses remind me of her. Blargh.
And here they are.
In my Texas home.
A glaring reminder of my high school heartache.
Who brought these devil roses in here?
I'm going to burn them down after I take this shot.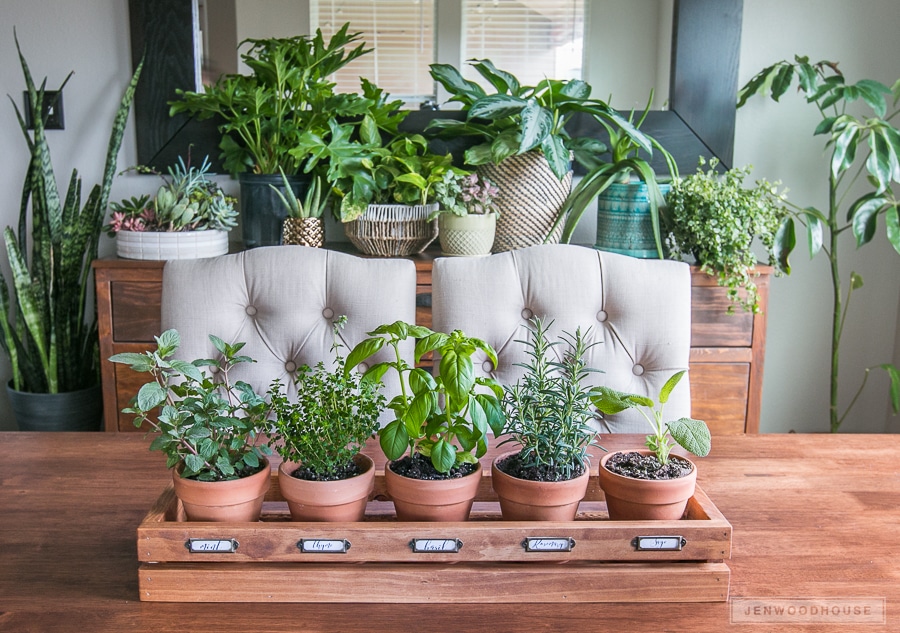 Well, that escalated quickly.
You guys. I've become a #crazyplantlady. So much for my black thumb. In my defense, these plants are next to impossible to kill. My secret is to sing "Suddenly, Seymour" to them every night. I think it's working.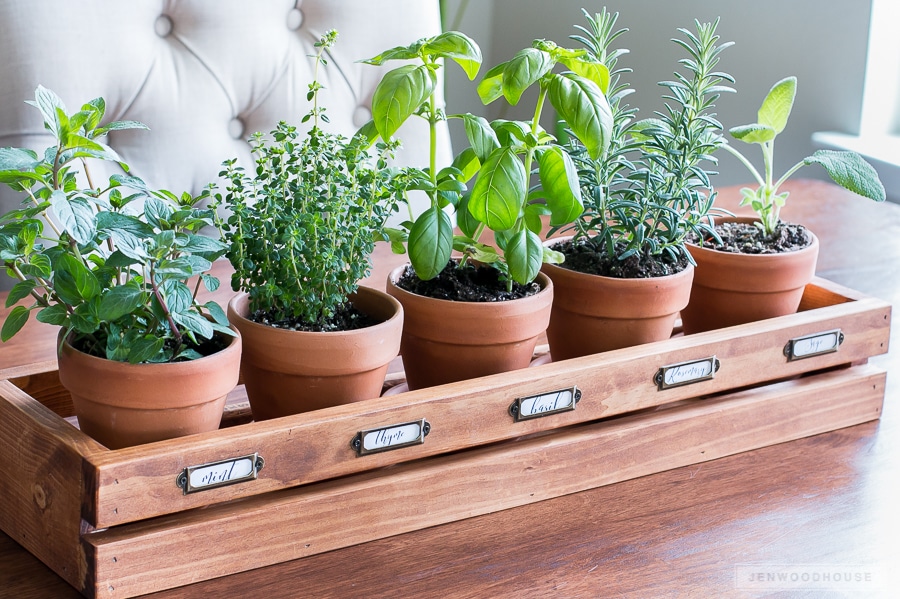 This little DIY herb garden box was a 2 hour scrap wood project (read: free and fast!). It's pretty self-explanatory how I made it, but for those of you who want specific dimensions and directions, I quickly drew up some build plans for this project.
The cute label holders were left over in my craft stash from a workshop I taught, where we made these DIY mail organizers. Here's where you can buy them.

Finally, let's head to the bedroom, shall we? (That sounded way more risqué than I intended.) Oh, and I'm desperately trying to resist the urge to use the phrase, "Welcome to where the magic happens!" I feel like everyone on MTV Cribs used that ridiculous line at some point or another and it makes me want to punch them all in the face.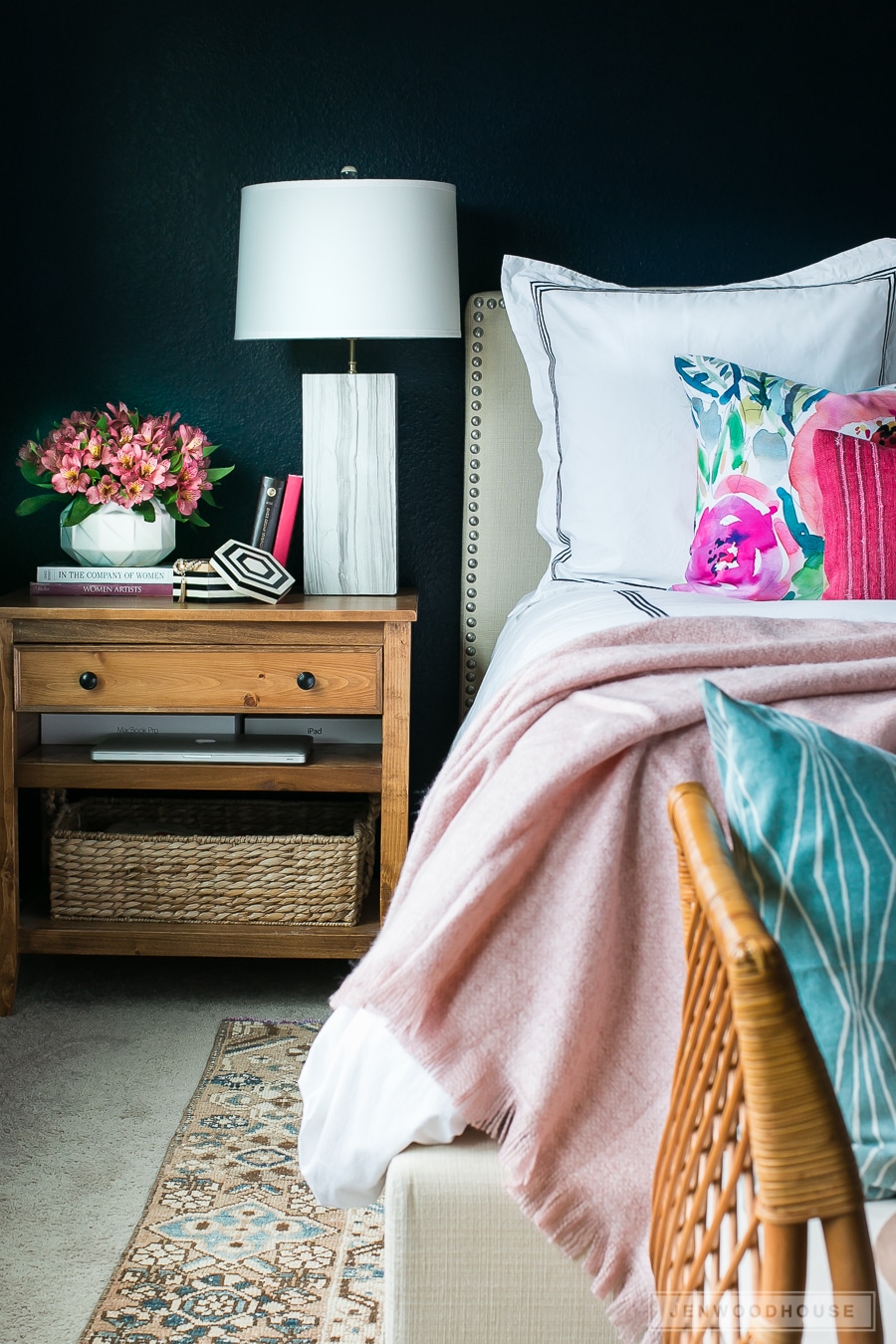 Oh, nothing. I just designed and built these nightstands. #nbd
Want to build one for yourself? I've got you covered.
Want to make that table lamp? Here's the how-to.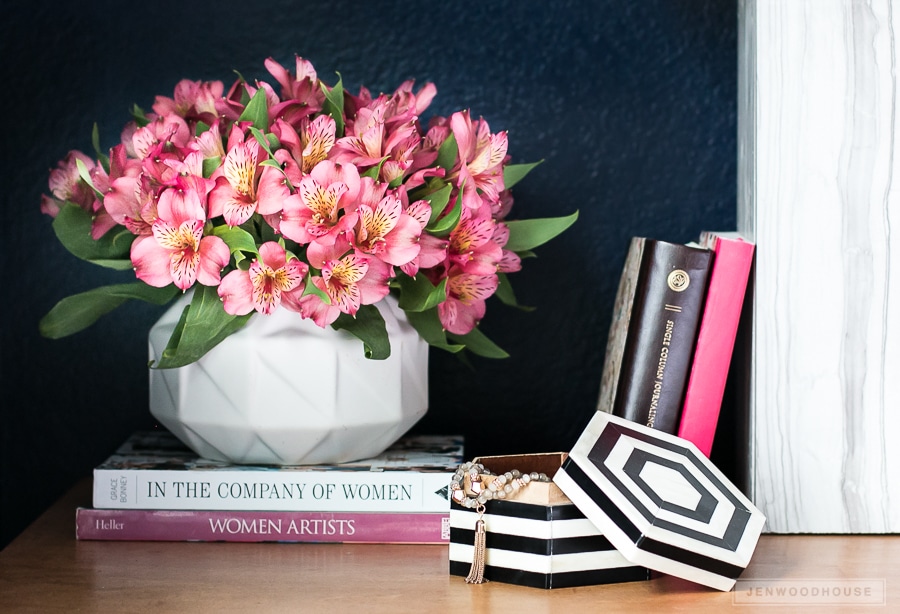 A simple way to add Spring touches to a room is to incorporate lighter fabrics, textures, and colors. Fresh flowers infuse beauty and color to a space. Having fresh flowers in the house is such a luxury, it makes me feel like a real grown-up. Like, a bona-fide meal-planning, checkbook-balancing, PTA-attending, 401K-having full-grown adult.
I mean, I don't actually do any of these things, but these flowers make me feel like I do and that's what's important.
This is why we women love flowers. Because they lie to us and make us feel pretty. It has very little to do with reality.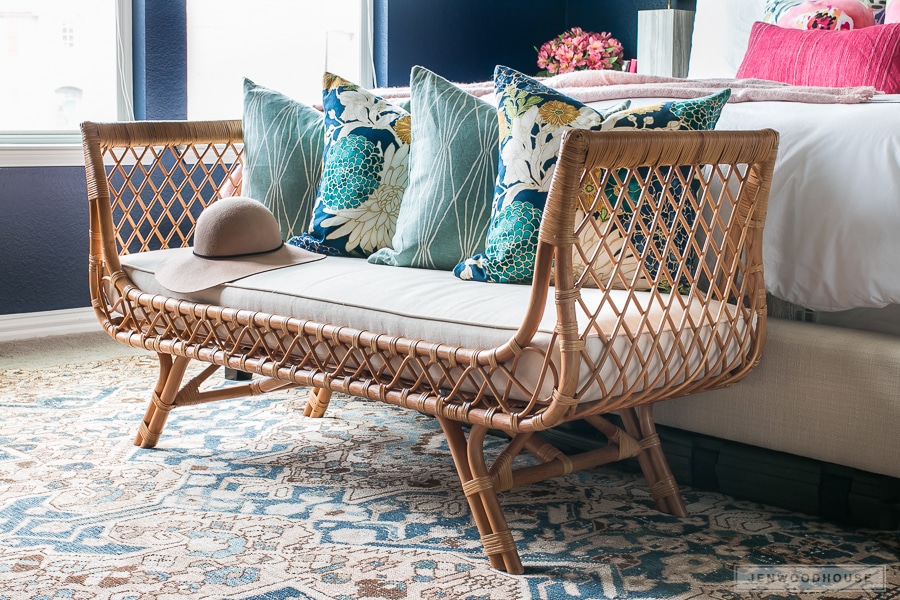 SHOP THIS ROOM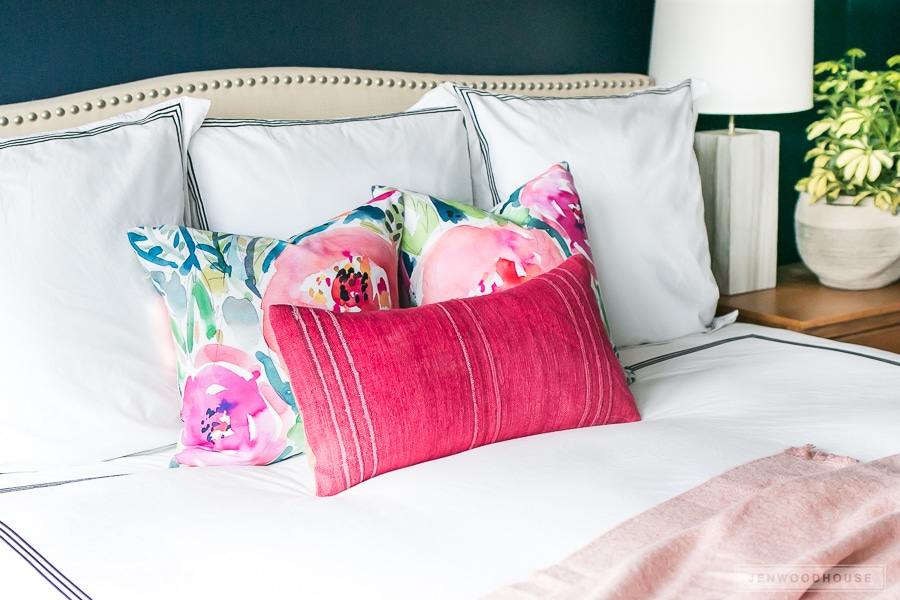 And because my husband's side of the bed must be manlier, I add a potted plant to his nightstand instead of a vessel of flowers.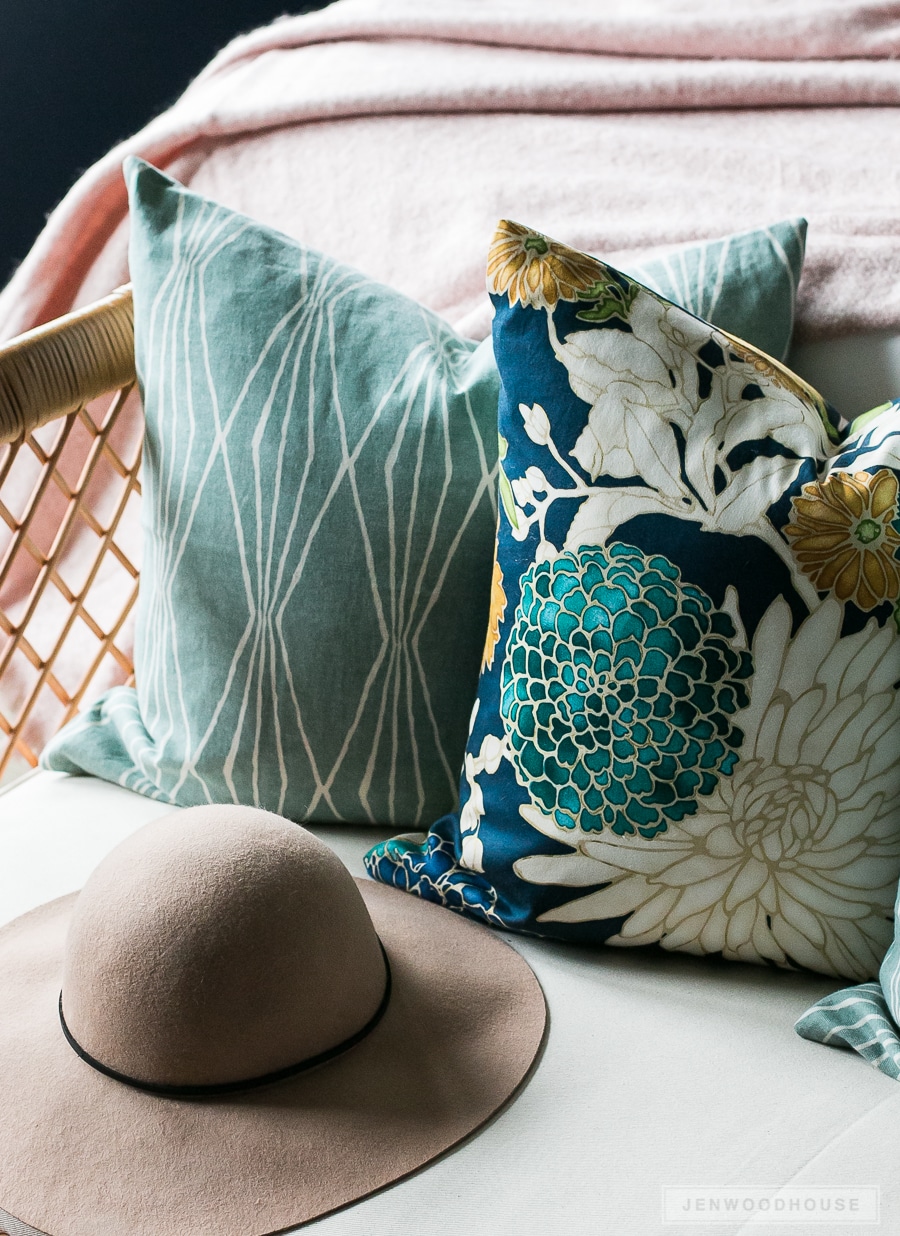 SHOP THIS ROOM

I hope you enjoyed this Spring tour of our home. Be sure to visit the rest of the homes on this tour. Tricia from Simplicity in the South is the next stop. You are sure to leave inspired!