Now that the weather's finally cooling off (hallelujah!), we're able to spend a lot more time outdoors. Fall is my favorite season because with it comes sweaters, scarves, boots, pumpkin spice lattes, s'mores out by the fire pit, and a stunning display of red, gold, and yellow foliage. And for us Alabamians, it also means we get to dine al fresco without melting our faces off from the heat and humidity.
Because we're spending more time outdoors, I decided to turn my attention to our back patio. It was nothing fancy, just a concrete slab that got the mid-day sun like nobody's business. You might remember seeing it when I made over my parents' old patio set. Take a peek here. Go on, we'll wait.
See? Nothing to write home about, right? Well, I'm going to change all of that starting now.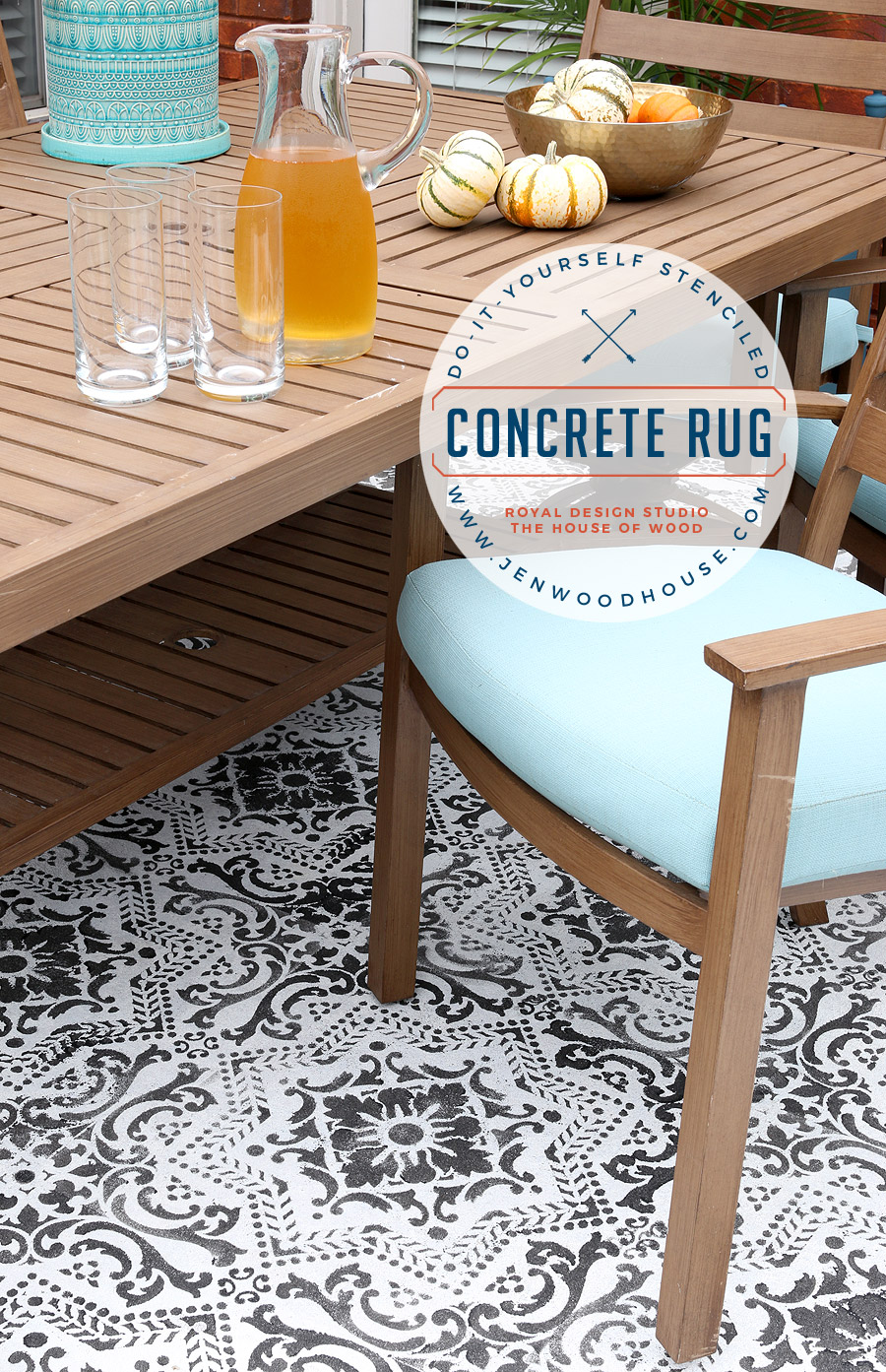 Outdoor rugs have never fared well on this patio because of the direct sunlight it gets. There is absolutely no cover, no shade from the house… just the blazing hot sun, beating down directly overhead, dry-rotting every outdoor rug that ever dared lay down on this patio.
The patio was old, cracked, and stained (and not in a good way) so simply covering it up (in lieu of major renovation) was always my quick fix. And since I have yet to find an outdoor rug that can take on the Alabama sun and live to tell about it, this stenciled concrete rug was the perfect solution. I teamed up with my friends at Royal Design Studio for this project.
On one of my daily trips to Home Depot, it just so happened that the Behr sales rep was in-store and I was able to assault him with my many questions seek his expertise. I told him what I was trying to do and he was chock-full of all sorts of helpful information. First, he recommended that I use concrete stain instead of concrete paint because paint can be slick when wet. Concrete stain can be tinted to any color, to whatever opacity you want, so it can be mixed to look like paint, but still act like a stain. Good to know, right?
I began by marking the perimeter of my "rug" with chalk. I used painter's tape to tape off the edge, then I rolled on the white concrete stain. You don't want to use a high quality roller here, since the concrete will tear it up quite a bit.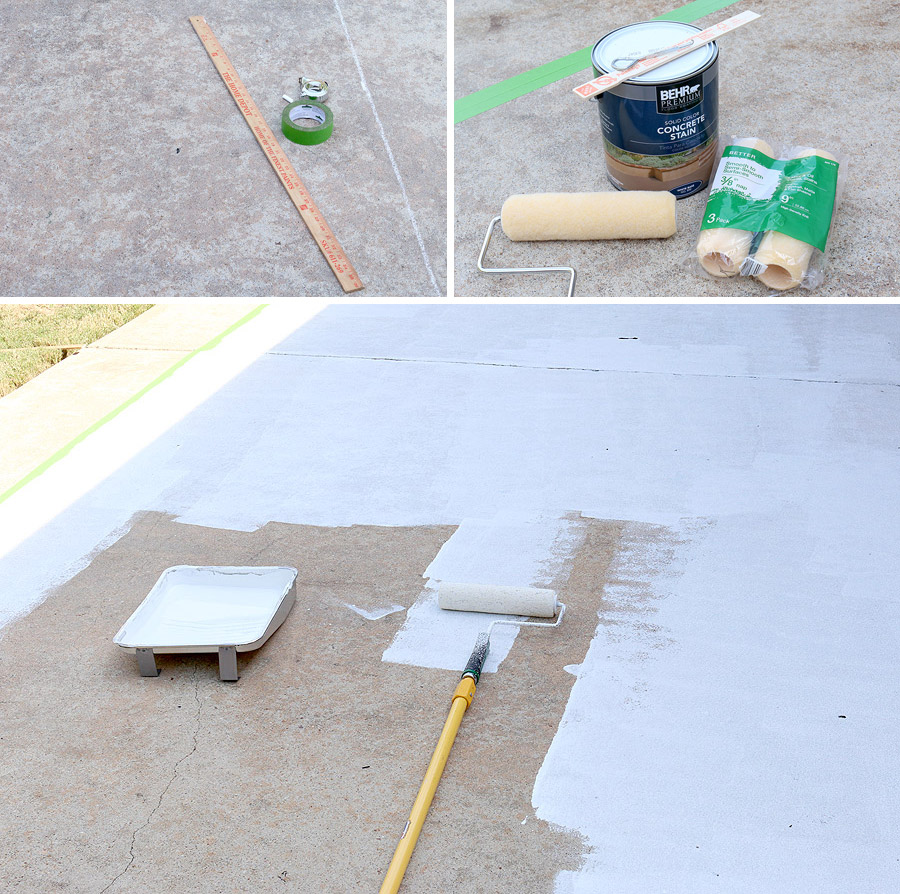 After the white stain dried, I used the Lisboa Tile Stencil by Royal Design Studio to stencil on this gorgeous Mediterranean pattern. I also used the Classical Border Stencil to create a border for my "rug."
You guys, listen to me. If there's only one thing you remember from this post, remember this: do yourself a favor and buy this stenciling brush. It made a world of difference – I cannot stress this enough. After trying a variety of different brushes and rollers (from different brands and price points), this 3″ stencil brush was my saving grace. It was the only brush that worked for this stenciling project. It made the job quick, easy, and effective.
I used the 3″ stencil brush because I had a big job to do, but if you're stenciling a smaller area, you might want to choose the most appropriate size brush for your project, but do get the right tool because it will save your life.
Get the stencil brush. You'll thank me later.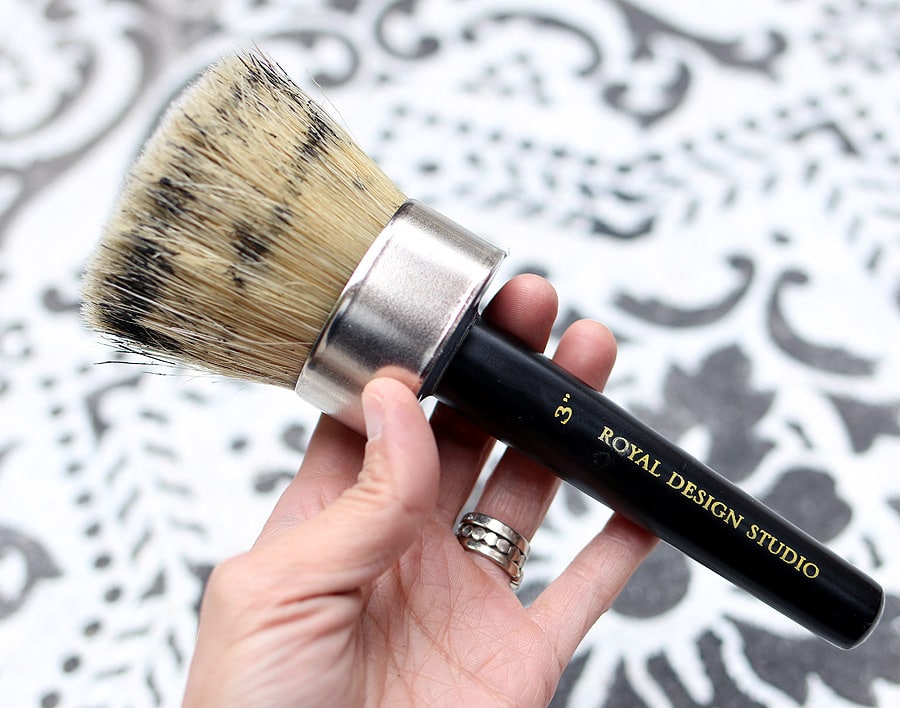 Be sure to tape the stencil down so it doesn't move while you're working. I used painter's tape and it worked perfectly. Dip the brush in the stain, then blot most of it out, so that the brush is almost dry. This is called the dry-brush method. Then, holding the brush flat, move it in circular motions, applying the stain all over the stencil. Here's a great video with perfect stenciling technique.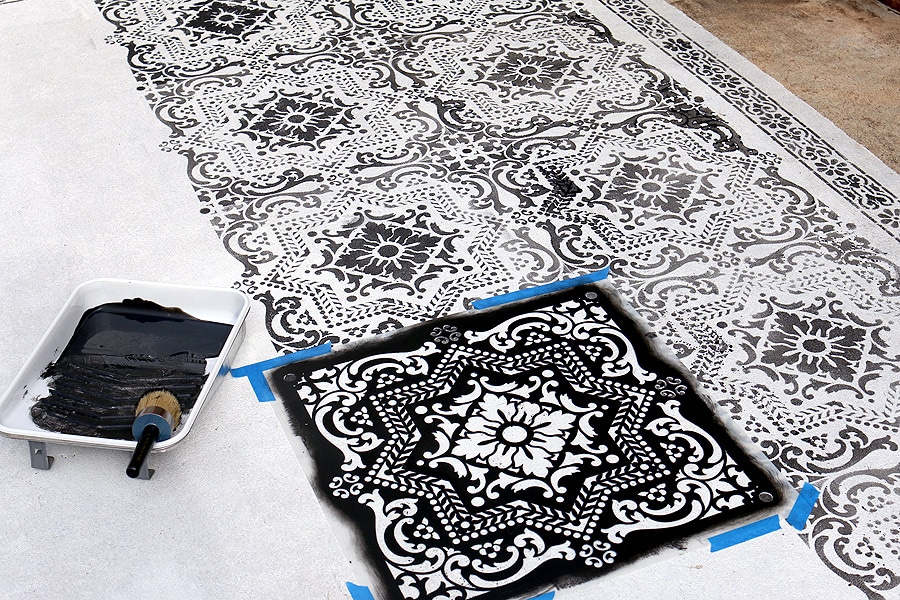 Periodically, you'll want to wipe off the underside of the stencil, just to keep things nice and tidy.
Lather, rinse, repeat eleventy million times and just like that, I had my entire patio stenciled. My husband made a quick run to the grocery store (which is across the street) and I was finished before he got back! Crazy, right? I thought this project was going to take FOR.EV.ARRR, but it took less than an hour!
Do you see those imperfect parts? That's what happens when you don't use the right tool for the job. The good thing about this stencil, however, is that it's very forgiving. If you're looking at the "rug" as a whole, the imperfections in the pattern aren't a glaring reminder of my own inadequacy that distracting.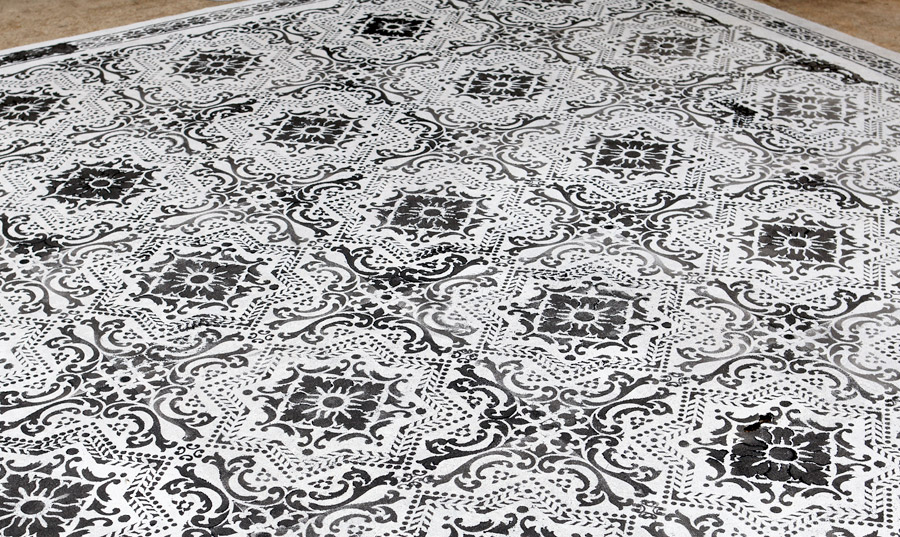 My mistakes are even less noticeable when you put a bunch of stuff on top of them. And aren't you proud of me? I've been keeping those plants alive since this Summer. I think that's a record for me.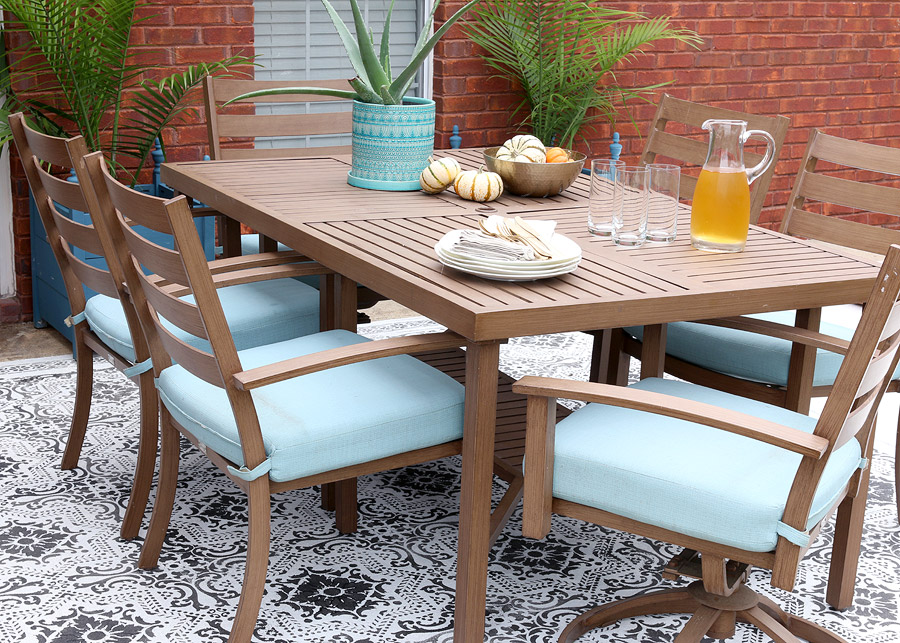 I love how the new concrete rug adds so much interest to my otherwise hum-drum patio.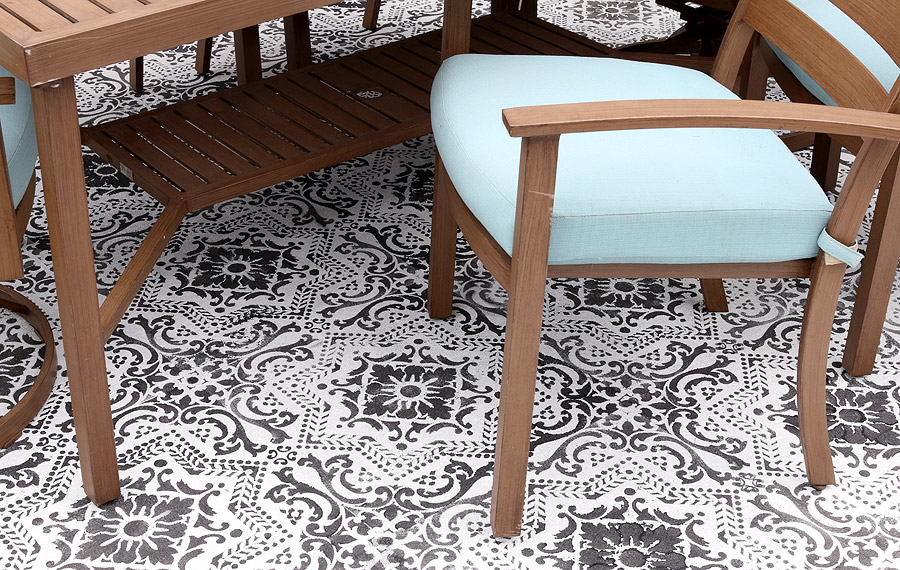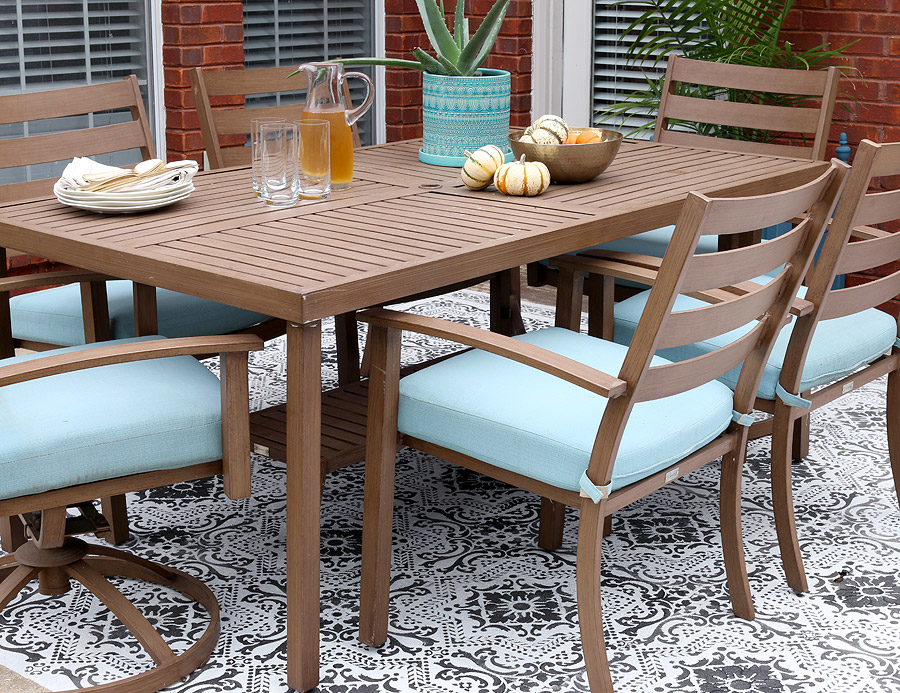 What do you think? Is stenciling concrete on your To Do list? Thanks for stopping by, friends! If you liked this project, be sure to PIN IT so you don't forget it!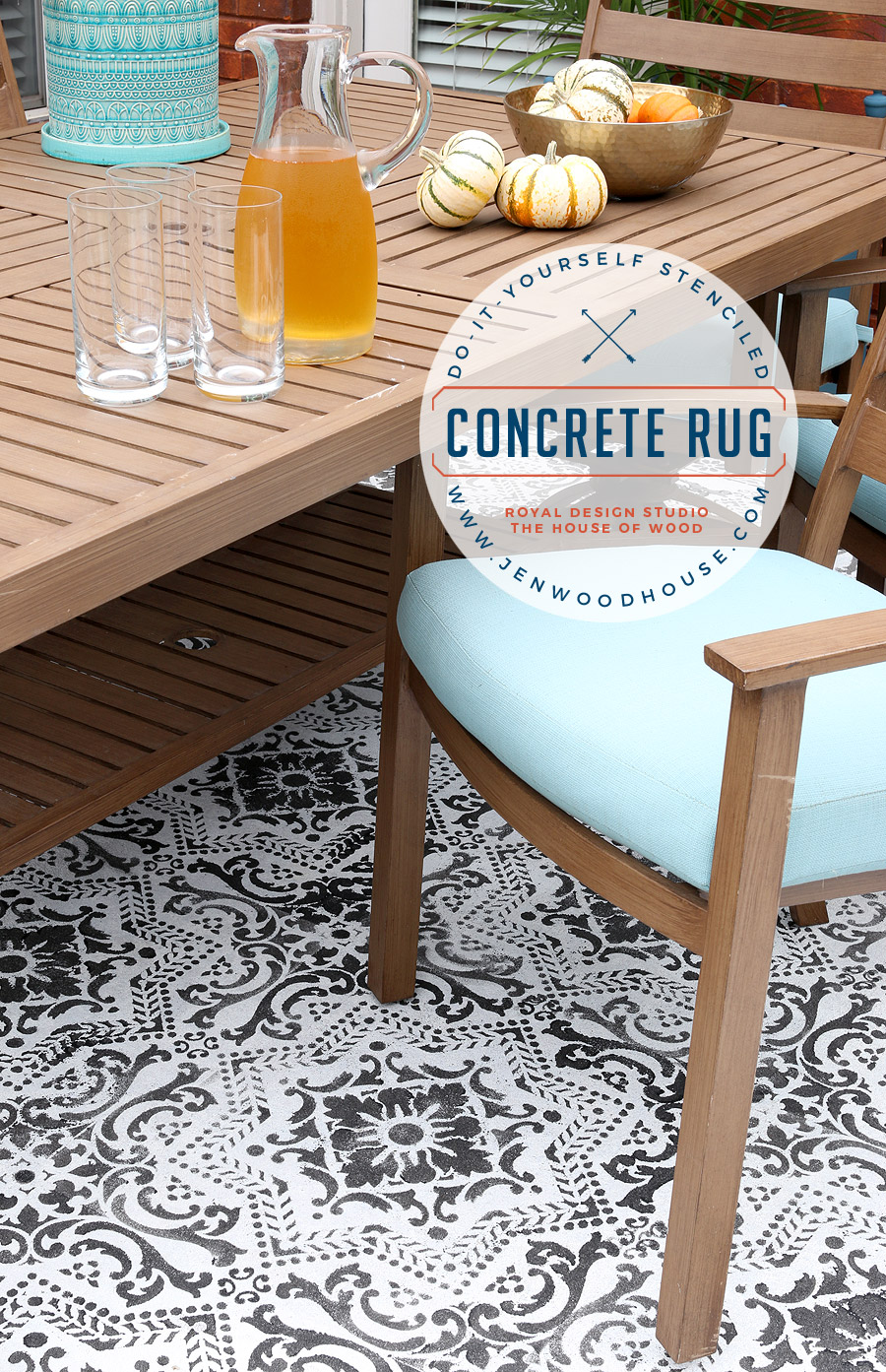 *This post is sponsored by Royal Design Studio. While I received product and/or compensation to write a post using one of Royal Design Studio's stencils, all efforts, opinions, happy dances, and professions of undying love for these products are my own.
Pin for later!