A basic guest bathroom gets new insulation and cement board walls and floors to prep for a gorgeous marble tile installation.
Welcome back to our Guest Bathroom Renovation! If you're just tuning in, we're in the middle of renovating our very basic guest ensuite bathroom. We're working to transform it into a timeless, elegant space for our favorite family and friends.
If you missed my previous posts on this guest bathroom renovation, catch up here:
Here's where we left off. Once the self-leveling underlayment cured, I dragged a level across the floor to check it. I admit, I was skeptical, but gosh darn it, it worked! My mind is blown. I mean, how does it know?! Gravity is so cool.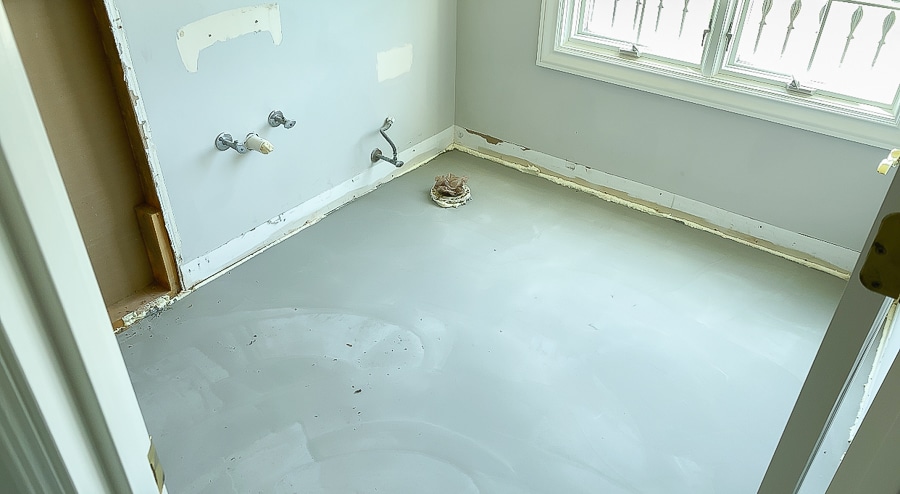 So far, we've removed the toilet, sink, mirror, hardware, light fixture, shoe molding and baseboards, floor tile, shower stall, and insulation. Then we roughed in the plumbing and leveled the floor. You can watch the play-by-play on my Instagram stories.
TODAY'S TO DO LIST:
Cut and install 1/4-inch cement board on floor
Hang insulation
Cut and install 1/2-inch cement board on walls
Tape and mud seams
---
Installing 1/4-inch cement board on wood subfloors
Tools and Supplies: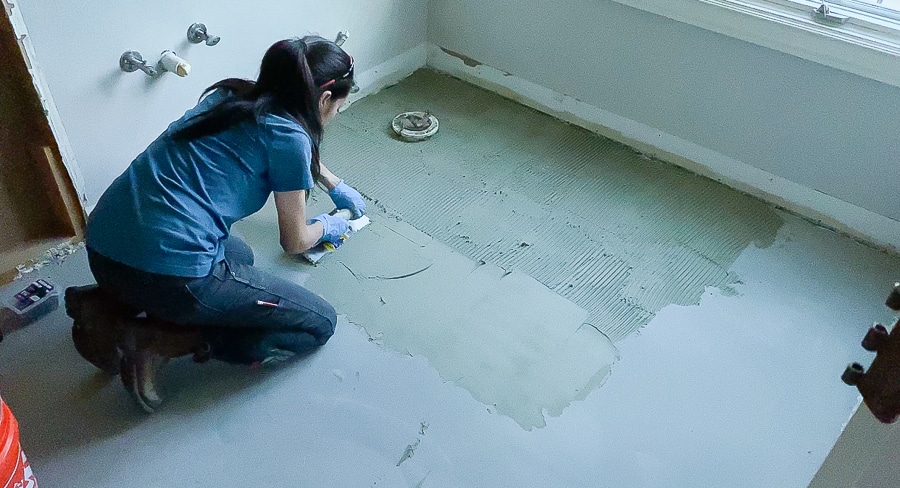 Once the self-leveling underlayment was cured, we could install the cement board on the floors. We used 1/4-inch cement board for the floors and cut it size with a cement fiber saw blade. Then we dry-fit the panels to ensure that everything fit as it should.
Cement board provides a stable surface for installing tile or stone and protects against moisture. It's ideal for both interior and exterior substrate applications and protects against excessive moisture in wet areas such as showers, saunas and steam rooms.
We mixed up the thinset mortar (the directions are on the bag) in a 5-gallon bucket and a drill with a paddle attachment. We mixed up the entire bag, but ended up using about 3/4 of it. Then we dropped dollops of the mortar onto the leveled subfloor and spread it with the flat side of the square-notched trowel.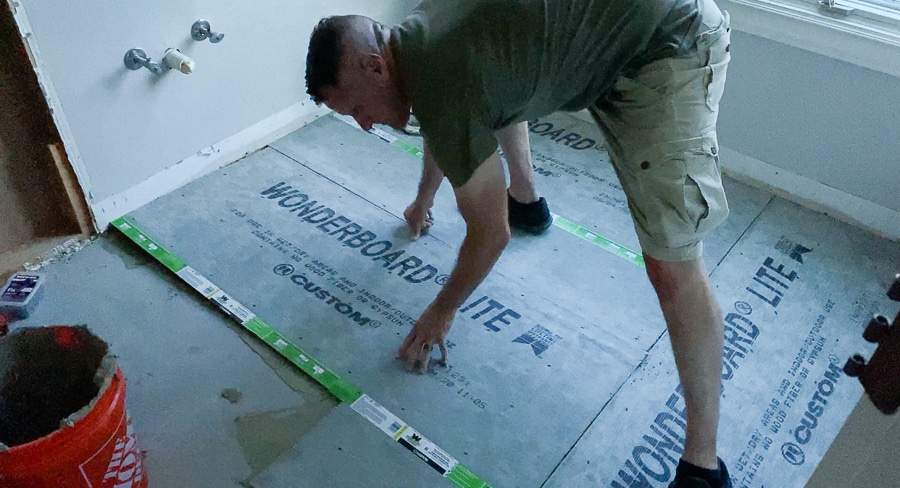 Once the mortar was spread to about 1/8-inch thickness evenly across the surface of the floor, we combed it in one direction with the notched side of the trowel. We worked in sections large enough for each panel and Adam laid each cement board panel down over the mortar, stepping on it to ensure adhesion. We left a 1/4-inch gap at the walls and a 1/8-inch gap between panels for expansion/contraction.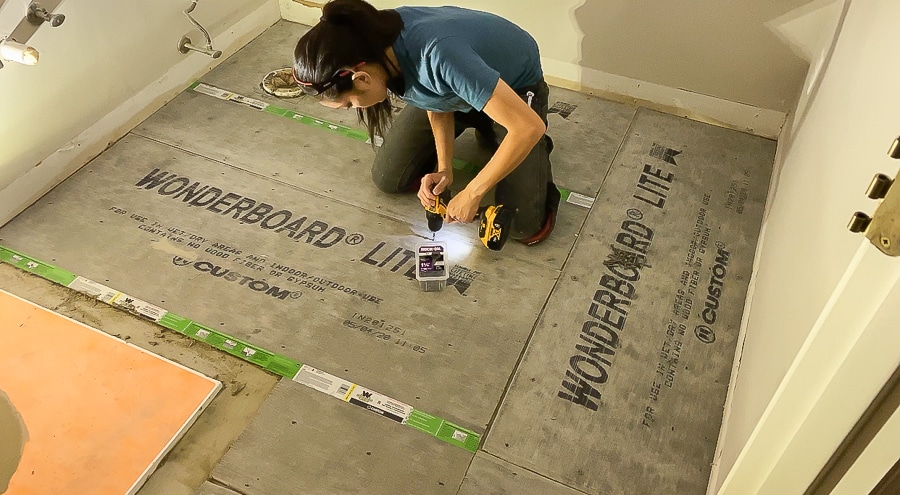 Next, I screwed the cement board down to the subfloor with 1 1/4-inch cement board screws. The cement board had handy screw markings on it for easy screw location. I drove screws flush with the surface, 1/2 inches from the edges, 2 inches from the corners, and 8 inches apart over the entire panel.
insulating and Installing 1/2-inch Cement Board on the Walls
After the floor was done, we shifted our attention to the shower. First, I held a level across the studs to make sure they were plumb and even. Luckily, they were, so I didn't need to shim anything. Hallelujah!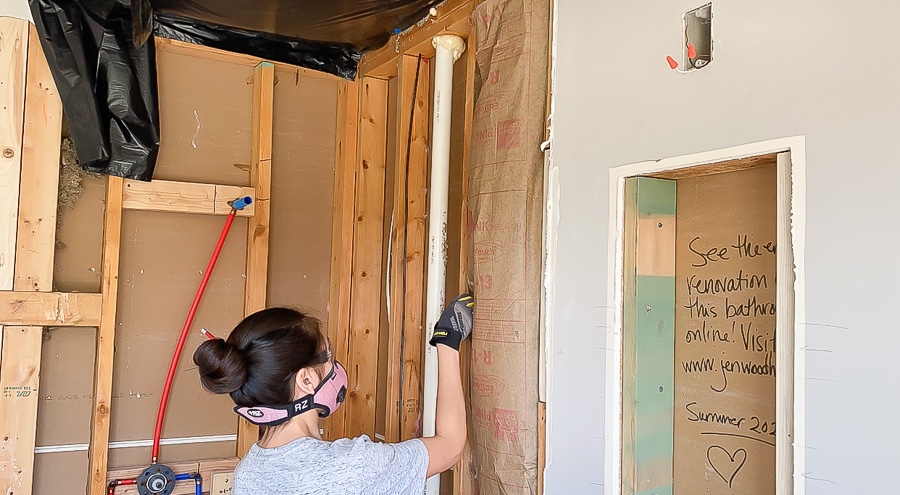 Our friend Josh owns Builders Insulation, an insulation business out of Louisville, KY and he generously donated the insulation for this bathroom. He recommended R-13 for the walls and R-38 for the ceiling. The R value is the resistance to heat flow; the higher the number, the higher the resistance. Since all of the shower walls are interior walls, R-13 would suffice – insulation for the walls wasn't really necessary, but it'll help dampen the sound.
Josh recommended the R-38 for the ceiling since the attic is above and we need a more robust insulation to shield the room from extreme hot and cold temperatures. The easiest way we can think to do this would be to patch the ceiling with drywall, then climb up into the attic and drop the batt insulation in between the joists. Here's a closer look at how we hung the insulation.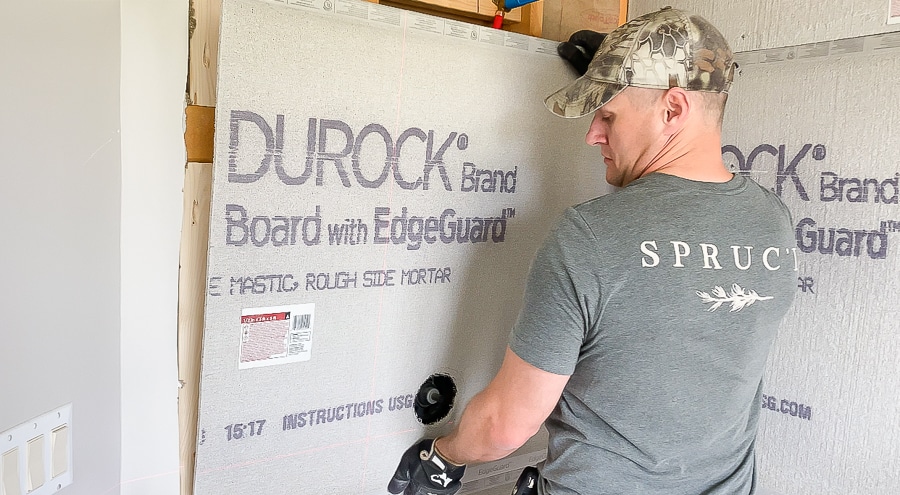 Next, we cut and hung the cement board to the shower walls. Because our shower wall butts up to 1/2-inch drywall, we used 1/2-inch cement board for a seamless transition. We simply screwed the cement board to the walls with 1 5/8-inch cement board screws, driving a screw every 8-12 inches along each stud.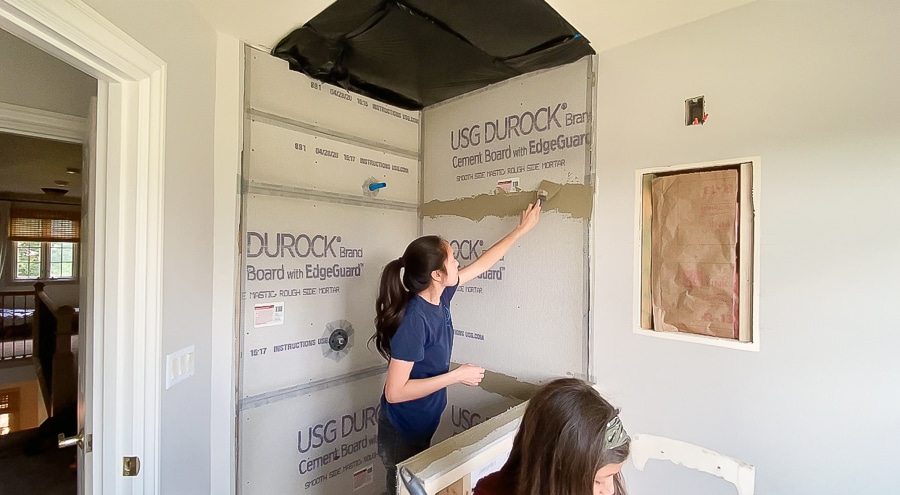 Finally, I taped all of the seams (on the floor and walls) with mesh cement board tape and spread more mortar over the seams with a drywall knife.
So that's where we're at so far… stay tuned for our next steps: the shower tray and pony wall installation. And be sure to follow me on Instagram for behind-the-scenes videos and sneak peeks!
Guest bathroom renovation MASTER CHECKLIST:
Demolition
Remove bathroom door temporarily to make room for demo?
Turn off water and valves, empty pipes and tank
Remove pedestal sink and toilet, plug holes
Remove medicine cabinet, bathroom hardware, light fixture
Remove shoe molding and baseboards
Demo floor tile and cement board
Demo and remove shower stall
Remove insulation
Clean up site
Plumbing Rough-In
Move shower valves to opposite walls
Repair shower drain
Install toilet
Electrical Rough-In
Relocate outlet to adjacent wall, upgrade to 20-amp circuit?
Replace overhead vanity light with wall sconces?
Replace vent fan
Add lighting in shower?
Framing
Demo shower walls
Frame pony wall
Don't forget to add the toiletry niche (plan around tile size)
Floors
Shower Installation
Check to ensure studs are plumb and even, shim if necessary
Add insulation
Install cement board on floor and walls, tape and mud seams
Install shower tray and curb
Waterproof shower floor, walls, and curb
24-hour flood test
Walls
Repair drywall where medicine cabinet used to be
Molding?
Paint
Install baseboards and shoe molding
Tile
Tile shower walls
Tile shower floor
Tile bathroom floor
Grout and caulk
Vanity
Install vanity (will it fit?)
Install faucet and sink
Hang mirror
Lighting
Install wall sconces or overhead vanity light?
Miscellaneous
Order and install glass shower door
Install toilet paper holder, towel bar, towel ring, towel hook
Add artwork and accessories