Electrical rough-in for a small bathroom undergoing a complete renovation. From basic to beautiful in just a few short weeks!
Welcome back to our Guest Bathroom Renovation! If you're just joining us, we're in the middle of transforming our guest ensuite bathroom from BASIC to BEAUTIFUL (hopefully! Fingers crossed.) We're mixing modern and traditional styles for a classic, timeless feel that features a stunning marble mosaic tile floor.
If you missed my previous posts on this guest bathroom renovation, catch up here:
Here's where we left off: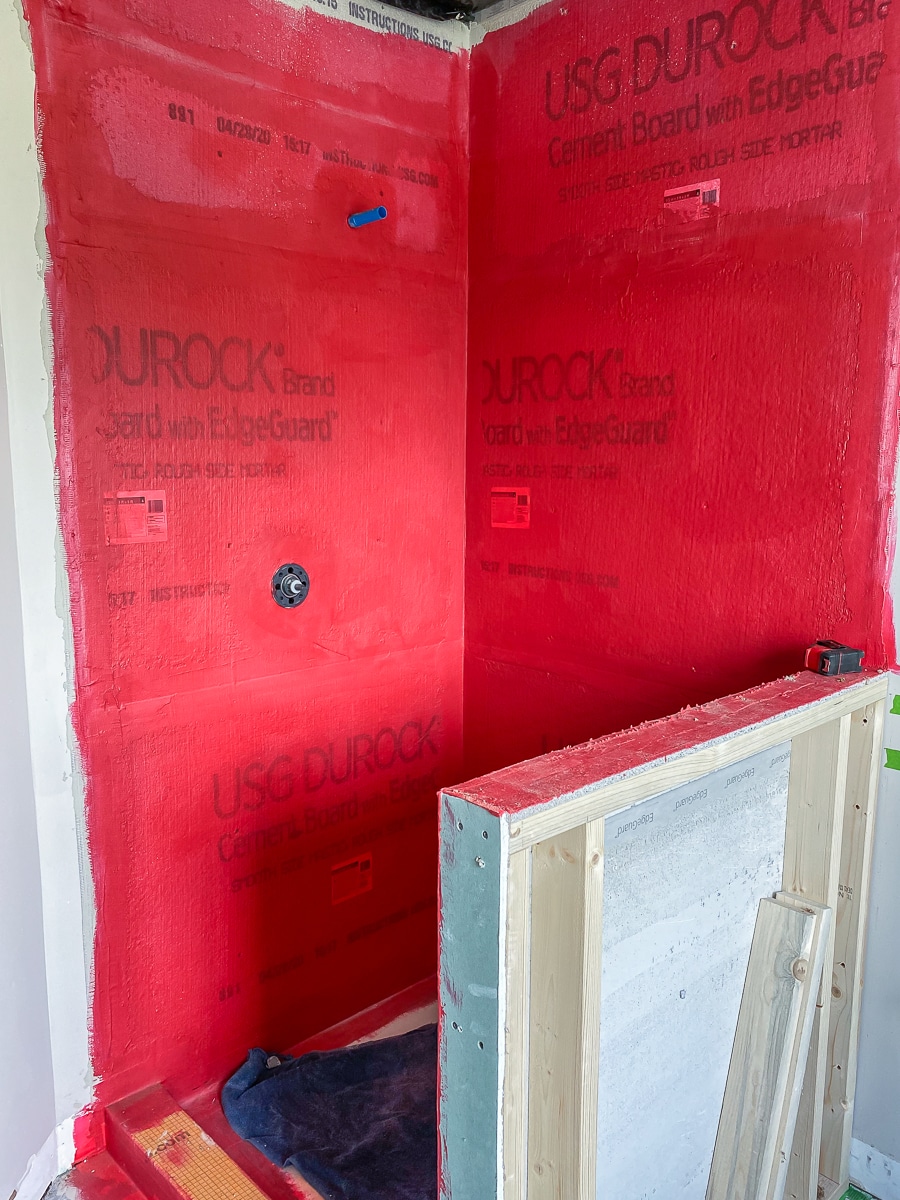 So far, we've removed the toilet, sink, mirror, hardware, light fixture, shoe molding and baseboards, floor tile, shower stall, and insulation. Then we roughed in the plumbing, leveled the floor, hung insulation, and installed cement board on the floors and walls.  After that, we installed the shower tray, curb, and pony wall, and waterproofed the entire thing! You can watch the behind-the-scenes process on my Instagram stories.
TODAY'S TO DO LIST:
Electrical rough-in

Replace overhead vanity light with two sconces?
Relocate the power outlet to the adjacent wall, upgrade to 20-amp circuit
Replace the vent fan with a vent fan/light combo and move it above the shower

Seal marble tiles
Electrical Rough-In
In my initial design board, I wanted to replace the overhead vanity light with a sconce on each side of the mirror. Directionally, I think the light is more flattering coming from both sides, rather than overhead. But I had a sneaking suspicion that I wouldn't have enough room for the two sconces on the sides of the mirror, so I mapped it out after the shower tray and pony wall were installed. I used painter's tape to help me visualize the size and location of the vanity sink and mirror.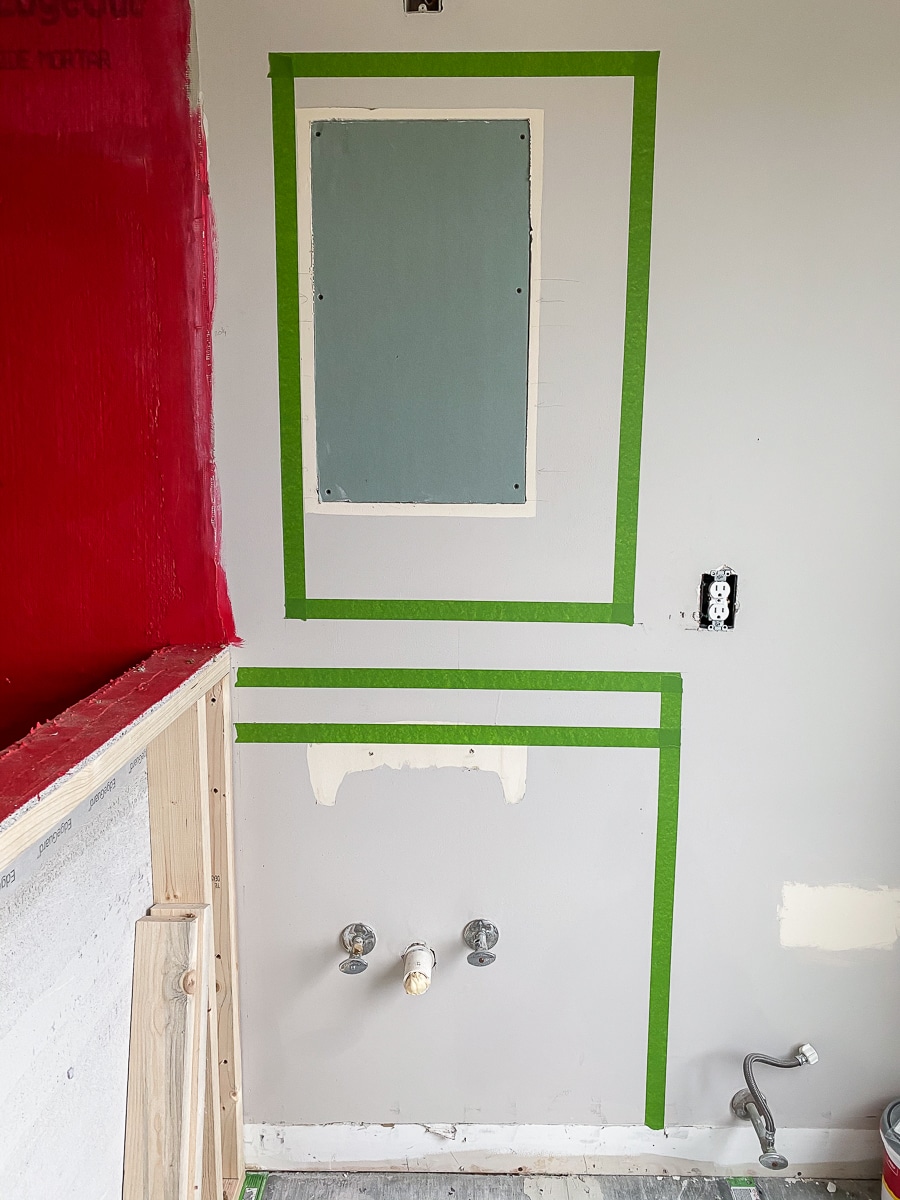 Sadly, I realized (reluctantly) there just wouldn't be enough space for two sconces, so I had to revert to my backup plan: stick with the overhead vanity light. Womp womp. I'd ordered this vanity light weeks ago, just in case the sconces didn't pan out. Oh, well. You win some, you lose some.
There was a power outlet in the wall we demo'd, so I had our electrician move the outlet to the adjacent wall. I'm hoping the location of the outlet looks good – it's hard to tell if the placement is awkward without seeing it in relation to the toilet, vanity, and mirror. It's also entirely possible I'm overthinking things. We shall see…
The exhaust fan was previously located outside of the shower stall, so I had our electrician move it directly above the shower. My friend Sherry from Young House Love swears by this vent fan + light combo (they've used it in every bathroom they've remodeled, I think) and it's pretty stinkin' awesome. It's a vent fan with a recessed LED light, but it looks like a standard recessed light. You'd never know it was a vent! So cool, right?! Pretty sure, I've leveled up in adulthood, being this excited over a bathroom exhaust fan.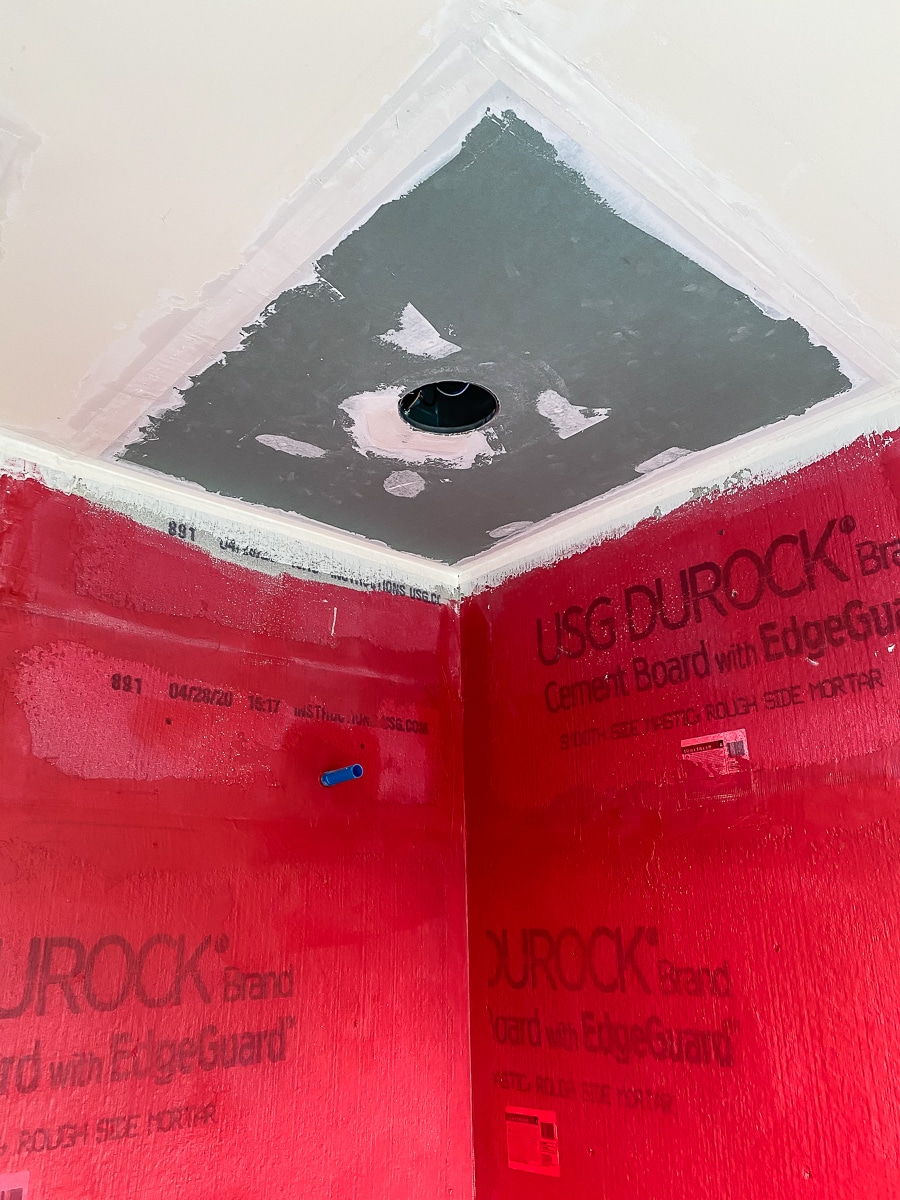 While the electricians were working in the bathroom, I was out in the workshop sealing all of the marble tiles. I spread out a plastic drop cloth and laid all of the tile on the workshop floor. The marble mosaic tile was such a splurge, but I just love it so much. I predict that I'll use our guest bathroom more than our own master bathroom after all is said and done. I'm just SO. IN. LOVE with this stunning tile.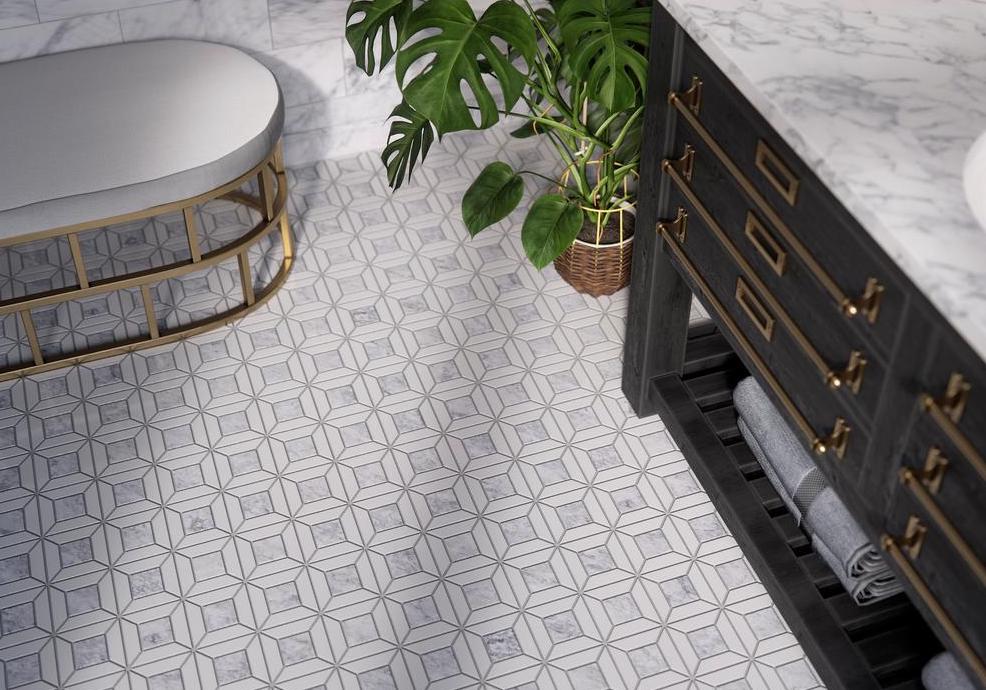 I used a small foam roller to apply the penetrating sealer. I just followed the directions on the back of the bottle: roll it liberally on the stone, let it sit and penetrate for 3-5 minutes, then wipe off the excess with a soft, white cloth. Easy peasy. After the tile is installed, I'll seal it again, before I grout.
The Big Vanity Swap
In other news, I had to rethink my vanity choice as well – it was just too wide for the space. I was hoping I could 'borrow' space when we demo'd the old shower stall, but alas, no such luck. So it's back to the drawing board!
The too-wide vanity was actually a blessing in disguise because I found one that I liked even more! I knew I wanted a wood-toned vanity with pretty legs (as opposed to a built-in cabinet), as if it were a piece of furniture. Since it's a guest bathroom, we didn't need a ton of storage, but some storage for our guests would be appreciated. After weeks of searching, I found THE ONE.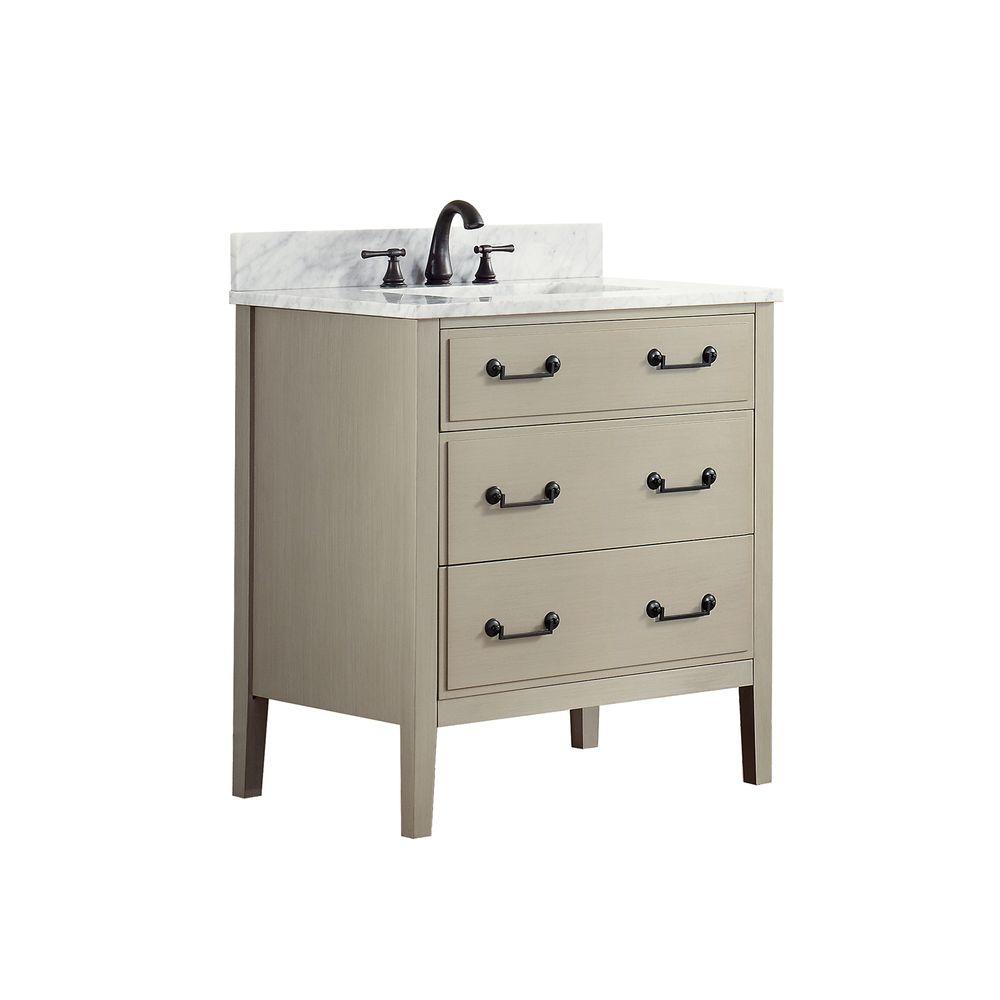 Feast your eyes. Isn't she beautiful?! I love the shape, the legs, the storage, the marble top, the warm, taupe color, and it's the perfect size! I'll have to change the finish on the drawer pulls, but it's not a dealbreaker. And the holes in the vanity top will fit our vintage polished nickel widespread faucet perfectly. Success!
Since a couple of the elements in my original design has changed, I updated my design board to reflect those changes.

Upcoming To Dos
Today was pretty low-key on the renovation front, but it's the calm before the storm. Next up is TILING! I'll tile the shower wall with this porcelain tile, then build out the shower niche, and finish tiling the rest of the wall. Then I'll move onto tiling the shower floor with this classic marble basketweave, and finally, the bathroom floor with my favorite marble tile ever.
Thanks for following along – see you again soon! After our tiling extravaganza, the end will soon be in sight! Stay with me, it's gonna be good.
Guest bathroom renovation MASTER CHECKLIST:
Demolition
Remove bathroom door temporarily to make room for demo?
Turn off water and valves, empty pipes and tank
Remove pedestal sink and toilet, plug holes
Remove medicine cabinet, bathroom hardware, light fixture
Remove shoe molding and baseboards
Demo floor tile and cement board
Demo and remove shower stall
Remove insulation
Clean up site
Plumbing Rough-In
Move shower valves to opposite walls
Repair shower drain
Install toilet
Electrical Rough-In
Relocate outlet to adjacent wall, upgrade to 20-amp circuit?
Replace overhead vanity light with wall sconces? No – kept overhead light.
Replace vent fan
Add lighting in shower?
Framing
Demo shower walls
Frame pony wall
Don't forget to add the toiletry niche (plan around tile size)
Floors
Shower Installation
Check to ensure studs are plumb and even, shim if necessary
Add insulation
Install cement board on floor and walls, tape and mud seams
Install shower tray and curb
Waterproof shower floor and curb
Waterproof shower walls
24-hour flood test
Walls
Repair drywall where medicine cabinet used to be
Molding?
Paint
Install baseboards and shoe molding
Tile
Vanity
Install vanity (will it fit?) No – ordered backup vanity
Install faucet and sink, switch out pulls
Hang mirror
Lighting
Miscellaneous
Order and install glass shower door
Install toilet paper holder, towel bar, towel ring, towel hook
Add artwork and accessories